What To Do With Kids in The Ziller Valley
Where to go and what to do with kids in the Ziller Valley.
For anyone looking to explore somewhere new, a holiday away from it all, something a little more active and fun, yet safe and suitable for single parents and their children, look no further than the beautiful Ziller Valley.
The Ziller Valley (or "Zillertal" in German) in Tyrol has long been a top summer destination amongst its neighbours, yet in the UK we still tend to view this Eldorado for outdoor lovers as purely a winter destination. After all, the Ziller Valley is one of the best ski resorts in Europe. In truth, it is also an exciting place for parents and kids of all ages, with Mediterranean temperatures in the summer months, beautiful swimming lakes, spectacular waterfalls, adventure playgrounds on mountain tops, natural ice caves, and thrilling outdoor activities, such as rafting, paragliding, and canyoning. And these are just some of the things that make the Ziller Valley such a perfect choice for a holiday with teenagers as much as a holiday with little ones.

How to explore the Ziller Valley with kids
Located 40 km east of Tyrol's capital Innsbruck, it is the largest valley in Austria, branching off the Inn Valley in Tyrol and following the course of the River Ziller. The Ziller Valley is surrounded by the glaciated Zillertal Alps to the south and east, the lower peaks of the Kitzbühel Alps to the east and the Tux Alps to the west.
Take the kids hiking
The best way to enjoy the stunning scenery, is by going on a hike. With 256 hiking routes available, you and your kids are spoilt for choice and can pick those trails that suit your family's abilities. Hiking routes range from easy hikes and nature trails in the valley with little elevation to demanding hikes up the highest mountain peaks. Best of all, you don't have to worry about your kids getting bored: Local maps will direct you to treasure hunts, fairy tale walks, barefoot walks, and adventure trails for children. This may be your first family hike alone with your children where you will be able to appreciate the stunning countryside, fresh mountain air and feel at one with nature. Family hikes are a great way to relax and recharge your batteries.

Visit the Hintertux Glacier
Hintertux in summer is a hidden treasure and no holiday in the Ziller Valley is complete without a visit if its impressive glacier. At the highest point, the glacier reaches 3,250 m, and the ice of the glacier is 120 m thick at its deepest. That is pretty impressive! The 3 gondola rides to the peak of the glacier are an experience in their own right: You literally travel through the seasons, from summer in the valley to deepest winter when you finally reach the peak. Here you can enjoy breathtaking views, play in the snow and visit a natural "Ice Palace", a crevasse in the glacier and one of the most amazing natural wonders. The Hintertux glacier is the only glacier in Austria where you can ski all year round, hence it is no surprise that it is a very popular destination for skiers from all over Europe.
Make a splash
Kids love water and there is plenty of it here! With temperatures regularly reaching the 30s in summer, you have  to make time in your schedule for a refreshing dip in the crystal clear waters of one of the many lakes of the Ziller Valley, or for a fun day at an adventure swimming pool complete with giant slides and wave machines.
The beautiful swimming lake "Schlitters" is just one of those wonderfully warm lakes perfect for swimming, and sunbathing on its spacious lawns. Jetties are built into the lake for easy access, and you can relax and take in the stunning Alpine scenery whilst swimming and relaxing at the lake. Just a stone's throw away is a sports centre, a beach volleyball court and a café with a large terrace overlooking the lake.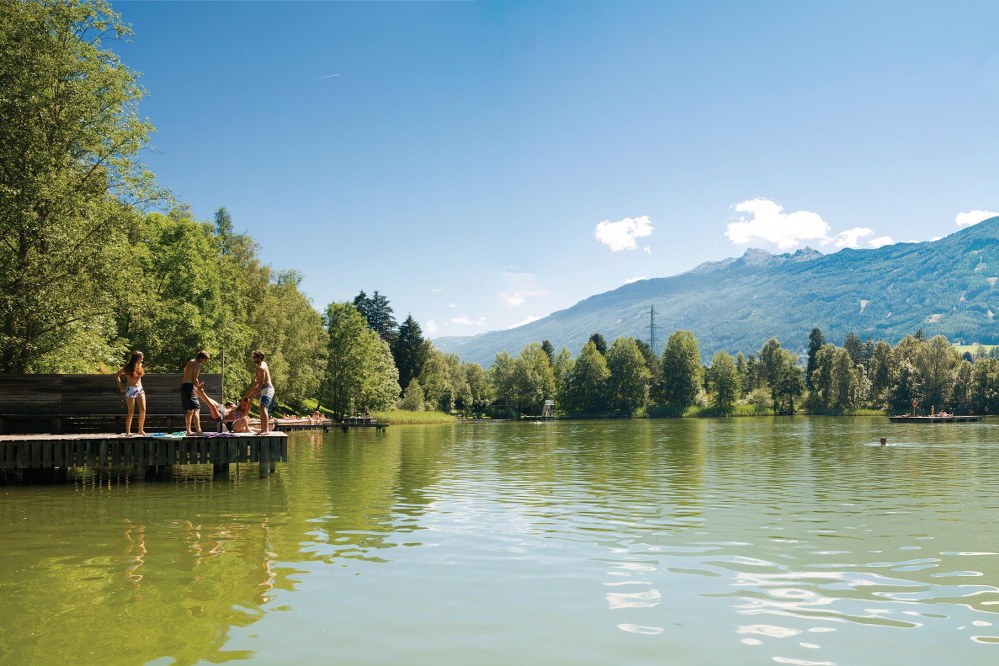 Alternatively, there are a range of pretty amazing adventure pools in the Ziller Valley. One of the best of its kind is the thermal spa and adventure pool in Fügen, which has an indoor and outdoor pool area stretching over 1000 m² with the largest slides in Tyrol, wave machines, salt water pool, toddler pool, large greens for sunbathing, playground, trampoline, and much more. After spending a day in the natural thermal spring water, you will feel refreshed and rejuvenated.
Get an adrenaline rush
The Ziller Valley is a paradise for adrenaline junkies of any age. From high rope gardens to zip lines, tandem flying to summer tobogganing – there is a huge amount of things to do with kids here. If you and the kids like to keep active or try out new things, you should spend your  single parent holiday in the Ziller Valley.
If you and your kids like a thrill, check out the Arena Coaster in Zell am Ziller. It is just like an elevated roller coaster, with the added benefit of amazing mountain scenery and fresh Alpine air. The adventure begins right above Zell am Ziller: Get into a cart, push forward to release the brakes and off you go whizzing down the mountain at your own speed an. At 9 m above the ground, this 1,450 m track will provide pure excitement for adults and kids 10 years and over.
If you or your children are dare devils, you can get your adrenaline fix at the "Almflieger" zip line at Gerlosstein. Fly through the air at speeds of up to 50 km/h – an activity that is not for the faint hearted. The Almflieger has four zip line canopy tours, the longest of which is 738 m. This is an experience you and the children will never forget. Your kids have to be at least 10 years old to take part with you.
If zip lines and roller coasters are not your thing, check out the new Aerial Forest Park in Gerlos, one of the newest forest climbing parks in Tyrol – similar to GoApe in the UK. With 45 parcours elements at 10 to 15 m above ground, there is something here for all ages and abilities. The Aerial Forest includes zip lines, rope bridges, log bridges, and many other fun elements.

Indulge in Tyrol's culinary delights
There are not many regions in Austria with a cuisine as outstanding as that of the Ziller Valley. The local gastronomy sector here has "reinvented" many Tyrolean specialities and serves them in a new and contemporary way. Wherever you go, be it restaurants, mountain huts or café, food here is authentic and mouthwatering. Traditional dishes as well as fusion cooking inspired by modern and light cuisine are featured on the menu of many restaurants.
Like everywhere in Tyrol, you will find countless kids friendly restaurants in the Ziller Valley with indoor or outdoor play areas to keep the kids occupied whilst you are waiting for your meal. At the Goglhof in Fügenberg the kids can meet the farm animals and enjoy the nature-themed playground. The family-run Hintertuxerhof offers stunning views of the Hintertux Glacier whilst serving hearty meals and a huge outdoor playground. There is no better way to relax and enjoy a meal with the kids.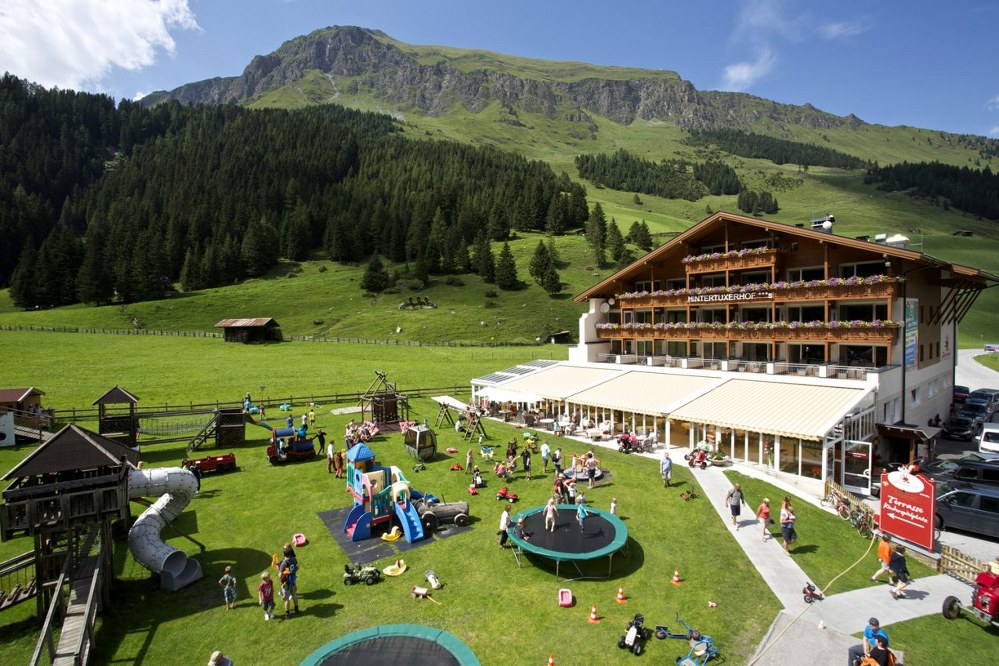 The Ziller Valley is one of the most beautiful regions in Austria and a mere two-hour flight away from the UK. It is within easy reach from both Innsbruck and Munich airports. But you needn't worry: If you don't feel like travelling solo with your children, you can join our group of single parent families on a single parent holiday in the Ziller Valley this May half term and enjoy the benefits of a fully organised group holiday, including private airport transfers and a 4-day activity programme. Spend less time organising and more time having fun and exploring this beautiful part of the world!