The 18 BEST Things to Do in Kyoto, Japan (2022 Update)
When trying to pick the best things to do in Kyoto, Japan, you can't go past this guide for 2022! Be amazed at what to do in Kyoto, the ancient capital of the country!
Kyoto is one of the most popular places to visit in Japan and proudly one of the most culturally diverse cities in the world. Many tourists frequent the city every year to experience the uniqueness of Kyoto.
People love Japan for its balance between modern advancements such as in technology while still keeping its traditional roots. Kyoto is no different.
This city remains the go-to destination for those who expect to see magnificent bamboo forests, beautiful Buddhist temples and shrines, theatre, and colourfully dressed geishas.
Visitors should also look forward to walking through brightly coloured Torii gates, learning how to brew Japanese tea, enjoying cherry blossoms and experiencing Buddhism.
READ MORE: Check out our brand new travel to Japan guide!
What to Do in Kyoto – Our List of the Best Attractions
For those wondering what to do in Kyoto, this is the right article for you.
If you have a short trip planned, check out our detailed 3 days in Kyoto itinerary!
1. Kinkakuji Temple
One of the top attractions when you visit Kyoto, the name Kinkakuji Temple is a translation for Temple of the Golden Pavilion. It was previously known as Rokuonji, however.
This popular Zen Buddhist Temple was the retirement villa for Ashikaga Yoshimitsu, a retired shogun of the Rinzai Sect.
The top two floors of the Kinkakuji Temple are made in gold leaf as the retired shogun intended originally, hence the name, Golden Pavillion.
The Buddhist temple is a shariden, a place they use to store Buddha's important items, for example, his ashes.
Visitors get to see different architectural styles on each of the three floors of the Kinkakuji Temple.
The first floor is made of wood and white plaster. Here, they used the shinden-zukuri style. The second floor is where the Samurais resided, and they used the Bukke style.
The architecture of the third floor resembles that of a Chinese Zen Hall.
A massive pond overlooks the Kinkakuji Temple, and from the other side, tourists can see the many statues in the building. There is a garden that leads to the Sekkatei Teahouse.
Location: One, From Kyoto Station, take bus number 101 or 205. It costs 230 Yen and takes close to 40 minutes.
Two, take the Karasuma Subway Line to Kitaoji Station for 260 Yen for 15 minutes, which is the best way. From there, take a 10-minute taxi (1000-1200 Yen) or bus numbers 101, 102, 204 or 205 (230 Yen) to Kinkakuji
Opening hours: every day from 9 AM – 5 PM
Price: 400 Yen
Check out our Japan vlog on exploring one of Kyoto's famous attractions in Kyoto, Japan
2. Ryoanji Temple
Of all of the temples and shrines in Kyoto, Ryoanji Temple is another popular Kyoto must-see site for tourists because of its spectacular rock garden.
The Myoshinji School of the Rinzai sect of Zen Buddhism owns the garden, and the head temple is located one kilometre south of the garden.
Despite the mystery surrounding its construction and motive, many people believe that it is up to each person to interpret the meaning for themselves.
The garden itself is made up of a low stone wall surrounding a plot with 15 stones laid in groups on moss. Small white pebbles cover the rest of the garden.
Fun fact is that no matter where a person stands, one rock will always be out of view for him or her.
There is a pond that is believed to have existed since the time the aristocrats lived there with a shrine on one of its islands.
Book a half a day tour to enjoy one of the best things to see when visiting Kyoto.
Location: One can access the temple from Kinkakuji by a 20-minute walk or a 5-minute bus ride. A more direct route is by JR bus. The journey costs 230 Yen and is about 30 minutes long.
Opening hours: every day from 8 AM – 5 PM (March-November) & 8:30 AM – 4:30 PM (December-February)
Price: 500 Yen
READ MORE: Want to see other places in the area? Check out these great day trips from Kyoto!
3. Kyoto International Manga Museum
This fascinating museum opened in November 2006. It has three floors with walls lined with manga comics on its shelves.
The Kyoto International Manga Museum is a welcome change from the traditional types as it deals with a current popular Japanese art form, Manga.
It is one of the few Kyoto attractions that are unique and educational for tourists as it features modern art forms such as manga.
Although manga is an internationally-recognised art form, most of the books in the museum are in Japanese.
Books written by international artists are also on display in the museum, and their work is included in events held by the manga museum on the subject.
Besides the vast manga display, there is a display of things that belonged to the elementary school that was hosted in the building before. The Kyoto International Manga Museum is definitely one of the coolest attractions in the city.
Location: It is two minutes from the Karasuma-Oike subway station. It costs 210 Yen, and the journey is about 5 minutes long.
Opening hours: every day from 10 AM – 6 PM (closed on Wednesday)
Price: 800 Yen for Adults, 300 Yen for high school and junior high school students, and 100 Yen for elementary school students
READ MORE: Looking for something to do at night in Kyoto? Read this post on all the city has to offer!
4. Gion – The Geisha District
People recognise the Japanese culture by its beautiful and colourfully dressed geishas.
Being the most popular geisha district, the government financed Gion's restoration by running all overhead utilities below the ground to maintain its original beauty, tradition, and charm.
Visiting the Minamiza Theatre, popular for its Kabuki shows, is an interesting thing to do in Kyoto. Kabuki shows are a theatrical performance that incorporates dance, over-the-top makeup, and bright colors.
Tourists visit Hanami-koji Street for its gift shops, restaurants, teahouses (ochaya), and places where geishas (geiko in Kyoto dialect) and maikos (geisha protégés) perform.
For those who like fine dining, Hanami-koji Street, located from Kenninji Temple to Shijo Avenue is the place to visit in Kyoto.
The well-preserved machiya houses on the street and in the alleys serve both local and international cuisines. Next to Shijo Avenue is the Shirakawa Canal, a quieter version of Hanami-koji.
For the best souvenirs and authentic Japanese street finds around Kytoto, visitors can visit Higashiyama District between Kiyomizudera and Yasaka Shrine.
Location: Bus number 100 or 206. The journey takes 20 minutes and costs 230 Yen.
Opening hours: 6 PM and 7 PM. It is closed from Monday to Thursday from December to mid-March except on national holidays, July 16, August 16, and December 29 to January 3.
Price: 3150 Yen
Make sure you sign up for this awesome Geisha night walk around Gion!
Check out our Japan vlog on exploring one of Kyoto's famous Gion District in Kyoto, Japan
5. Monkey Park in Iwatayama
Of all the things to see in Kyoto, the Japanese Macaques (snow monkeys) are the most fascinating. They are beautiful and may even steal food from visitors that are inattentive.
The hike to the top of Mount Arashiyama is treacherous but worth it because of the great view of the city. Visitors are placed in cages so that they are protected from aggressive monkeys during feeding.
Food for the monkeys can be bought in the park for a chance to interact with the monkeys.
The park is also educational as there are quizzes that inform visitors about the monkeys and their habitat. This is definitely one of the more unique things to do in Kyoto.
Location: Visitors can get to Iwatayama Monkey Park by either a 30-40-minute hike up the slopes of Mount Arashiyama or a 5-minute walk from the Hankyu Arashiyama Station.
Opening hours: every day from 9 AM – 5 PM
Price: 550 Yen
6. Nijo Castle
Nijo Castle is a robust imperial castle built to protect its inhabitants from any attacks.
Its layout consists of an outer wall, an inner wall for extra security, and the grounds with a garden surrounding the palace.
The main building is the Nimonaru Palace. It is where the shogun resided and has an amazing interior with sliding doors, each of which has a different design.
The Ninomaru Garden is beautiful with a pond surrounded by pine trees around it. The famous cherry blossoms are also found in the garden.
There is a second palace in Nijo Castle called Honmaru Place. Due to the damage it has sustained over the years, visitors aren't allowed in the castle.
Tourists are, however, free to explore, see the outer wall, and even climb it for a better view.
Nijo Castle is a UNESCO World Heritage Site. Book your skip-the-line entrance ticket on Klook, which also includes entry to another nearby castle, Ninomaru Palace.
Location: Nakagyo Ward, central Kyoto, accessible by train to the Nijo-jo-mae stop on the Tozai line or by bus numbers 9, 12, 50 or 101.
Opening hours: from 8:45 AM – 5 PM every day except Tuesdays in January, July, August, and December.
Price: 600 Yen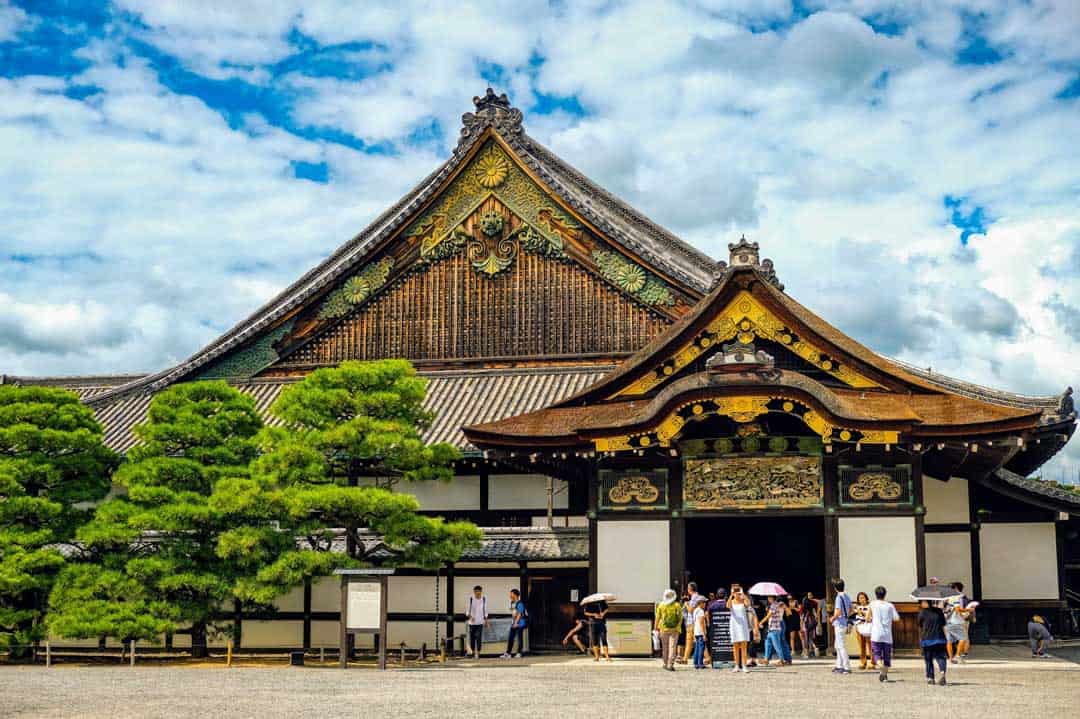 7. Visit Pontocho for a Fine Dining Experience
Kyoto is a major cultural city, and Pontocho offers visitors interested in fine dining with an opportunity to try out different Japanese cuisines.
It is located near the Komogawa River with hundreds of restaurants varying from expensive fine dining experiences to affordable yakitori.
To experience the best of Pontocho, ignore the guidebook and explore different restaurants. The best ones are usually smaller and not along the main way. They will probably only have their menus in Japanese.
The trick is to eat at a restaurant that pleases the visitor. On those hot and sunny days, a cool breeze from the Komogawa River may make the experience even better.
If you really love your food but would prefer to do this in style with a local, book yourself into a tour. They're not cheap, but your tastebuds will thank you forever!
8. Tenryuji Temple
Because of its great cultural and historical significance, the Tenryuji Temple is recognised as a UNESCO world heritage site and is a top attraction in Kyoto.
It is the head temple built by Ashikaga Takauji, a ruling shogun in 1339.
The buildings of Tenryuji may have been lost in fires and wars over the years; the garden remains in its original state, however.
The great garden designer, Muso Soseki, who was also the temple's first head priest, designed it. The pond in the middle of the ground is surrounded by rocks.
It is also surrounded by pine trees and a forest on the slopes of the Arashiyama Mountains. Seasonal cherry blossoms add charm to the temple in spring.
Location: 5 minute walk from Keifuku Arashiyama station.
Open: 8:30 AM – 5:30 PM (until 5 PM from late October to late March).
Price: 500 yen for the garden only, 800 yen for garden and buildings.
9. Kiyomizu Dera Temple
Built in 778, Otowa-san Kiyomizu Dera Temple is a Buddhist temple that is one of the most popular Kyoto attractions.
People recognise the temple by its main hall characterised by a vast wooden terrace overlooking the beautiful city of Kyoto. 
Fun fact: not a single nail was used to construct the 13-meter-high terrace. They used a method called hell frame and used 139 trees in its construction.
Under the main veranda is the Otowa Waterfall with three streams that the locals believe could give a person long life and success in their relationships and academics.
There are many restaurants and gift shops along the streets to Kiyomizu Dera Temple making this one of the best places to explore around Kyoto.
Location: Located in eastern Kyoto and a 10-minute ride by bus numbers 100 and 206 from Kyoto station
Opening hours: 6 AM – 6 PM
Price: 400 Yen
Free Things to Do in Kyoto, Japan
Not everything in the city costs money though! In fact there are some incredible free things to do in Kyoto as well, so you can save your cash for more sushi and sake!
10. Arashiyama Bamboo Grove
Of all the places to visit in Kyoto, this one is probably the most famous. And aside from the cherry blossoms, this bamboo grove is perhaps the most familiar association with Japan.
The Arashiyama bamboo grove is a glorious bamboo forest, where the shoots rise dozens of metres high and sway gently in the wind.
You have most likely seen the photos of the bamboo grove, as they are very popular on Instagram.
That also means that the grove is absolutely packed throughout the day!
Our secret tip is to get there before sunrise, as you'll avoid all the tour buses.
Location: Get to the Arashiyama bamboo grove by taking a train from Kyoto station to Arashiyama station. From there it's just a 10-minute walk to the entrance of the paths, just follow the signs.
Opening hours: 24/7
Price: It is free to enter
11. Kifune Shrine
This picturesque destination in Kibune Village is popular for those who are into photography because it is beautiful.
It is also a popular wedding destination and is known for its auspiciousness, especially for newlyweds.
There is a lovely stone staircase with red lanterns on the sides as you approach the main hall of the shrine. Visitors can also drink goshinsui (sacred water) from the mountain in Kibune.
For those who are superstitious, Kifune Shrine is the place to visit as it is where the locals worship Kami, a water deity.
One can buy fortune-telling paper, mizuura mikuji, and then place it in water near the main hall.
After a while, fortune reading regarding a person's life will appear and eventually fade as the paper stays in the water.
Translations for the fortunes are available using a QR code reader.
Spiritual individuals may decide to take a pilgrimage through the three main areas in Kifure: the main shrine, Yui no Yashiro, and the Okunomiya.
Location: One can get to Kifune by Eizan train as the town is 30 minutes from Kyoto. One can also take a 25-minute walk from Kibuneguchi station. There is also bus number 33 to Kifune.
Opening hours: from 9 AM – 4:30 PM, which may vary with each season but no closing dates.
Price: It is free to enter.
12. Fushimi Inari Shrine
The Fushimi Inari Taisha Shrine is recognized as Kyoto's most important Shinto shrine as it is the head shrine of the deity Inari.
He is believed to be the patron of prosperity for businesses, traders, and industrialists. He is also the Shinto god of rice and sake.
Located at the foot of Mount Inari, it goes up to 4 kilometers up the mountain with its many sub-shrines.
The shrine has a rich history spanning back to 711 AD, making it one of the oldest landmarks in Kyoto.
Its main entrance to the Fushimi Inari Shrine is the Romon Gate. It was first built in 1589 with the blessing from Toyotomi Hideyoshi, the ruler of Japan and a samurai warlord.
At the back are the Senbon Torii, donated by owners of businesses in Japan hoping for good fortunes. Their names are inscribed in black on the Torii gates, and they cover a hiking trail.
The Fushimi Inari shrine has some fox statues across the ground with some of them having keys in their mouths.
The Japanese believe that foxes are the gods' messengers and the keys are for the rice granaries they are protecting.
Due to its historical and cultural significance, deservedly so, the Fushimi Inari Taisha shrine is on every traveler's list of what to see in Kyoto.
Location: Close to JR Nara Line (Inari station), and a 5 minute walk from Keihan Main Line "Fushimi Inari station."
Opening hours: 24h/7
Price: Free
13. Nishiki Market
For tourists looking to experience authentic Japanese food, one of the best things you can do is check out the busy 5-block long Nishiki Market.
There are approximately 120 stalls, each of which is selling some form of Japanese delicacy. One can also get specialty items that are only locally available in Japan.
Despite how huge it is and the possible language barrier, one of the best things to do in Kyoto is to check out the Nishiki Market.
For those who have no experience with Japanese flavors, try some green tea. Be adventurous as there are many delicacies to choose from.
There are also trendy shops like Konnamonja that offer tofu made ice cream and doughnuts.
All serious traveling gourmets know that the Nishiki market is definitely one of the places to visit in Kyoto!
Book a 4-hour guided walk of Nishiki market where you will be introduced to great food and sake!
Location: One block north of and parallel to Shijo Street. Walking distance of the Shijo, Karasuma, and Kawaramachi subway stations.
Opening hours: from 9 AM – 6 PM although some stalls close on Wednesdays or Sundays.
Price: free, but one will purchase food in the stalls.
14. Philosopher's Walk
It is a mile-long path that the Japanese philosopher, Nishida Kitaro, used when he walked to Kyoto University in the early 20th century.
It is next to the Biwa Canal with cherry blossoms along the path. It takes about an hour to walk across the whole length of the trail.
Visitors can start the path at Ginkaku-ji, heading south along the path until the end of the path in Nanzenji. There are shops, restaurants, and even vending machines along the path although there are no restrooms.
Location: Higashiyama district of northern Kyoto. There are no restrictions as to when one can walk the path. Take bus number 5, 17, or 100 from Kyoto Station to the beginning of the path at Ginkaku-ji.
Opening hours: Always
Price: Free
15. Attend A Silk Weaving And Kimono Fashion Parade
One of the most notable fashion items from Japanese culture has to be the Kimono. It is a beautiful traditional dress that women still wear to this day.
During festivals and other occasions such as autumn and cherry blossom seasons, one can notice most women are dressed in Kimonos and Yakata.
The best place around Kyoto to see the Kimono styled and worn is the Nishijin textile centre. Here, they offer a kimono fashion parade several times a day.
There is a display of silkworms that produce silk that are used as textiles. There are also weaving demonstrations that explain how they make more complex fabrics and wall hangings.
Don't miss out on the opportunity to see a kimono fashion parade, it's one of our favorites Kyoto tourist attractions.
Location: one kilometre from the Kyoto Imperial Palace or 1.5 km from Nijo Castle.
Opening hours: Daily
Price: free of charge
16. Attend Festivals and Events
The locals in Kyoto enjoy themselves by showcasing their rich culture, traditions, and food.
A visitor on a budget with limited things to do in Kyoto may enjoy free festivals and events as they get to interact with the locals and learn more about the Japanese culture.
Such festivals include Aoi, Jidai and Gion festivals, Setsubun, and New Year celebrations among other seasonal events.
The autumn and cherry blossom seasons (Sakura) are famous for festivals.
Many travelers plan their travels during the bloom of the cherry blossoms, it's an important part of the full Kyoto sightseeing experience.
A great way to experience the traditional Japanese culture is attending a local festival.
17. Fushimi Sake District
Located along Horikawa River, Fushimi is the top sake-brewing district in Japan and one of the best places to visit around Kyoto.
The underground springs provide soft and clean water that is good for brewing sake. Fushimi is located between two rivers with a strategic shipping position.
All these contributed to the growth of the town to a leading sake-brewing district with the popular Gekkeikan Brewery being founded in 1637.
For those wondering what to do in Kyoto, they can take a wooden boat for a sightseeing cruise from Gekkeikan Brewery and the Teradaya Inn up the Uji River for about 55 and 40 minutes respectively.
Location: There are many ways to get to Fushimi, one of which is a 12-minute ride on the JR Nara Line then a 20-minute walk from Momoyama Station.
18. Take Part in a Traditional Tea Ceremony
Because Kyoto is so in touch with its traditional roots, this is one of the best places in Japan to try a tea ceremony.
The traditional Japanese tea ceremony originated in Kyoto, and many locals still practice the ritual today.
Within Kyoto there are a few schools dedicated solely to the tea ceremony. They are casual places that emphasize the relaxation and grace associated with a tea ceremony.
Matcha is most commonly used in a tea ceremony. This finely powdered green tea is whisked into hot water and eventually made into a warm, strong, heartwarming drink.
You can book a 45-minute tea ceremony with an English speaking guide at Urasenke, one of the biggest tea ceremony schools in Kyoto.
Kyoto is a modern and equally traditional city that is magnificent to any tourist that visits it. There are many things to do in Kyoto that will be memorable for years to come.
Whether it be visiting the historic Buddhist temples and shrines or the Manga art museum, or walking among cherry blossoms or bamboo, there is something for everybody. There are expensive options and affordable options for those on a budget.
Kyoto is a must see city that is warm and welcoming to visitors and encourages everyone to have a good time. You can experience traditional Japanese culture and still have all the modern amenities you may need.
Kyoto Travel Guide
In order to help you make the most of all the awesome Kyoto attractions and activities, you need to have somewhere great to use as a base.
That's why we've put together this Kyoto travel guide to help cut out the guesswork.
Where to Stay in Kyoto – The Best Accommodation
If you're still in the planning stages of your trip and are wondering where to stay in Kyoto, we've done the research and are happy to share with you the top 3 accommodations depending on your budget.
Best Hostel in Kyoto – Friends Kyo
For backpackers on a budget, there's no better place to call home while you're exploring all the best Kyoto activities than Friends Kyo, right in the Gion district.
They have awesome chilling out areas, including a fantastic rooftop garden and a cool lounge. The dorms are great, clean and cheap. And best of all, they offer free laundry!
Best Mid-Range Accommodation – Daiwa Roynet Hotel Kyoto Shijo Karasuma
It may have a long name, but this is one of the nicest mid-range hotels in all of Kyoto! If you're looking for super clean, spacious, affordable and with a great location, you can't beat it.
Free wifi throughout the hotel is available, and there's a great buffet breakfast served up every morning.
Best Luxury Hotel – The Ritz-Carlton Kyoto
If you're looking for the absolute best place to rest your head at night, then you can't beat the Ritz-Carlton in Kyoto.
This hotel was only opened in 2014, making it very new with all the top modern amenities you could ever need, and it's proudly the first luxury urban resort in all of Japan.
Whether you're here for business or want to spoil your significant other, this is the place to be seen in Kyoto!
DISCLAIMER: Some of the links in this article are affiliate links, which means if you book accommodation, tours or buy a product, we will receive a small commission at no extra cost to you. These commissions help us keep creating more free travel content to help people plan their holidays and adventures. We only recommend the best accommodations, tours and products, and regularly review these. Thanks for your support, kind friend!