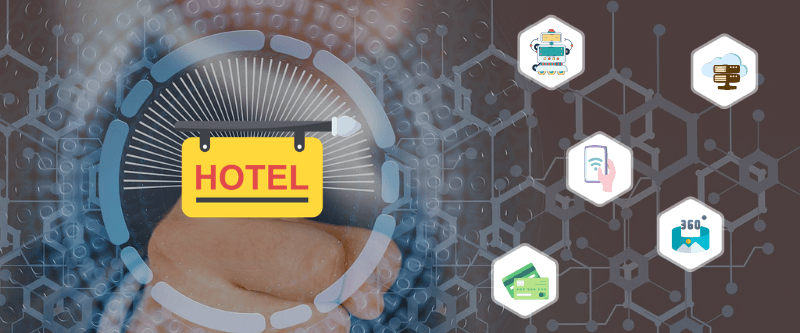 Hotel Technology Trends To Look Out For
In this blog, we have outlined the latest hotel technology trends that are going to take the hospitality industry by storm in 2023.
Irrespective of whether your hotel chooses to implement these technologies or not, you can be sure that many (if not most) of your competitors are already planning to implement them.
Don't believe us?
The 2022 Hotelier Technology Sentiment Report from the NYU Tisch Center of Hospitality found that by the end of this year, the adoption of on-property tech innovations by hotels was projected to go up by 50%. And hotel owners are not alone in their deep interest to adopt these advanced technologies at their properties. Customers too are increasingly developing a strong preference for staying at hotels where technology is leveraged to build a guest experience that is modern, convenient and seamless.

Taking this into consideration, we have curated a list of the latest hotel technology trends in the industry. Implementing these technologies at your hotel will help you to –
Hone your competitive edge,

Streamline and enhance your operations, and

Craft unforgettable experiences for your guests.
Let's get started –
Efficient Energy Management

The deployment of advanced machine learning algorithms that can detect thermodynamic fluctuations and outdoor weather patterns, in combination with tools that monitor energy control has made the move towards smarter energy management a growing reality for the hospitality industry.

The electric power sector as a whole is paving the way toward a more environmentally friendly and sustainable infrastructure – and the hospitality sector is quickly adopting this approach. Thanks to efficiency management, on average, hotels can save about 20-30% of their energy use.

Additionally, such effective energy management may reduce carbon dioxide emissions by up to 70%! And considering that today's ecologically responsible customers are keen to reduce their carbon footprint both at home and while travelling, they will look at a carbon-conscious hotel (that is using smart energy management to reduce its emissions) as a natural fit. In fact, many hotels now even highlight their efficient energy management practices in their marketing messaging. This sends out the message that the hotel's values are aligned with the values of its guests.

Introduction of Robots
Robot adoption at hotels was driven at a rapid pace due to the COVID-19 pandemic, which created the demand for social distancing. Research shows that we're going to be seeing a lot more robots in hotels. The future adoption of robots will allow hoteliers to construct a secure and enjoyable leisure space. Not to mention, seeing friendly-looking robots doing the tasks that were (and still are) primarily done by human service staff provides for a fun-filled, never-seen-before experience for guests.

The primary uses of robots in 2022 turned out to be for service delivery and item collection (on the behalf of customers). Moving forward, guests' meals and beverages might be delivered by a robotic waiter that covers all the rooms on the floor, freeing up staff to tend to more personalized tasks (that require human input and interaction to be done well) like:

– Answering queries and resolving grievances
– Checking in to confirm if guests need anything more
– Collecting genuine feedback from individual guests, and
– Making guests feel that the staff is available at their beck and call.
Another example of robots in action is cleaning bots. These are cheaper to deploy and much more effective than human cleaning staff. An intelligent blend of robots and human staff is what exceptional hospitality service would come to mean in the future. 
Unified Property Management System
A unified property management system that helps automate everyday operations, streamline administrative functions, optimize online presence and manage communications at a hotel will play a key role in the overall success of a hotel business.  Furthermore, with the help of property management insights and reports, hoteliers can access real-time data and insights that can help them grow their businesses. InnQuest's property management software's analytic tools are proficient at monitoring occupancy, guest behaviour and profitability. By understanding your customer's buying patterns, you will be able to design packages and services customized to their needs, thereby boosting profitability. 
Keyless Entry
Next, for obvious reasons of hygiene and minimizing the risk of disease transmission, keyless access has become more popular post-pandemic. Conventional room keys are rapidly becoming a relic of the past. Keyless entry systems are now rated as a crucial on-property feature by 46% of guests, a number that is only projected to rise. In fact, according to Statista, out of every four people interviewed, one of them expects smart room keys in their hotel rooms.

A large part of the philosophy behind the hospitality industry is meeting the customer where they are or where their desires and expectations from hotel service are. Therefore, it is important to step up to meet customers' expectations of technologies like mobile check-ins and smart keys. While some visitors could be concerned about the security of keyless access, the available solutions take security seriously and are encrypted, linked with the guest's personal contact number and expire as soon as the customer has checked out. 
Digital Guestbooks
Another popular hotel technology trend is digital guestbooks. They're a great way to provide guests with complete information about your hotel including a site map and details regarding all amenities, events to be hosted during their stay, discount offers, local recommendations, etc.

A computerized guest book's capacity to provide guests with individualized experiences is one of its key advantages. For instance, your hotel could create a branded, personalized customer portal through which guests can log in and obtain their digital keys, plan their overall trip according to their preferences, make the necessary bookings for add-on services, etc. In addition to that, this process can further be streamlined by way of a mobile application, giving visitors the freedom to customize their own experiences comfortably and in turn, relieving your team from add-on responsibilities.
Internet of Things (IoT)
Wi-fi, as well as sensor-based apps, are used to link everyday devices, tools, and appliances as part of the Internet of Things. IoT technology is essential to the development of what are known as "smart hotels" or "smart rooms". Such buildings and rooms have interconnected and internet-enabled gadgets, which lend them artificial intelligence. Almost every aspect of hotel operations stands to benefit from IoT.
A few examples of IoT in action are:
IoT detectors may be put in rooms to notify housekeeping when a visitor leaves their room.

Voice control can be made available for in-room gadgets that enable them to serve as a simulated/virtual concierge and offer customized suggestions to guests, provide the necessary information to them and even respond to their queries.

Guests may use an app on their smartphones to regulate the temperature and lighting in their rooms as per their preference.
Interactive Commerce
Interactive commerce is employing a conversational business style via messaging services like SMS, WhatsApp or chatbots to not only respond to customer inquiries but also to take advantage of customer purchasing intent.
These instant messenger systems enable hotels to develop tailored campaigns for various guest categories. For instance, if you frequently welcome honeymooning couples, you can tailor your marketing voice specifically to such guests by offering them couple-friendly services like a romantic room upgrade, couple's massage or a special hotel restaurant deal for two people.

Giving customers customized alternatives depending on their market segment increases customer satisfaction and generates more money for your business through upsells. At the end of the day, it makes each category of guests feel deeply cared for.
To learn about some of the most influential and profitable hotel marketing strategies for 2022 and beyond, click here.
Contactless Payments
The worldwide market for cashless payment interfaces, which was valued at $13.23 billion in 2020, is anticipated to quadruple to $51.07 billion by 2026 based on a study by US Research and Markets. Furthermore, research by Statista found that 35% of those surveyed want contactless payments at their hotels.
To keep up with these evolving trends, hotels must upgrade to more advanced payment processing technologies that are better integrated and support a variety of cashless and digital payment choices. The booking process will speed up with integrated payment processing, which will also cut down on manual reconciliation delays. To learn about a fully integrated payment solution by InnQuest, click here. 
Translator Technology
Thereafter, it should come as no surprise that a lot of customers prefer to communicate in their mother tongue or a language that they're fluent in.
Hotels that welcome visitors from across the globe are required to regularly communicate with clients who speak a variety of languages. To speak with potential visitors in their language, deploy translator technology (which is a growing trend) on your hotel website's chat platform.
This system works by instantly interpreting queries into the language of your choice and vice versa). It will allow you to swiftly respond to inquiries and increase the chances of turning website visitors into clients by personalizing their experience with your brand even before they've stepped into your hotel. This sure goes a long way in enhancing the overall guest experience. 
Cybersecurity Measures
Last but not the least, the hotel's technology infrastructure now has a variety of operations, systems and services to manage. This makes data security extremely important, now more than ever.
The primary goals of cybersecurity are to safeguard the database against malware, phishing, distributed denial-of-service attacks, and internal human error.
By taking the necessary cybersecurity measures, you can ensure that your client database as well as other crucial information regarding your business is safe, backed up, and recoverable.

Wrapping Up
In conclusion, adopting the latest tech-based solutions is an absolute must to succeed in this industry. Hence, figure out which of the latest hotel technology trends are appropriate for you in light of your hotel's objectives and target demographic and make an effort to personalize the customer experience as much as possible. 
About InnQuest

At InnQuest, we understand the importance of the challenges faced by businesses in the hospitality industry. InnQuest's mission isn't just to provide the best hospitality management system but to ensure hospitality businesses are supported whenever they need it. Our goal is not only to help manage your businesses more efficiently but also to provide ongoing support to engender growth and expansion. This is why we offer competitive pricing, without sacrificing quality or functionality in our software solutions. Book a demonstration of our award-winning hotel management software here.