6 Must-Have Dog Apparel and Accessories for Travel – Nomad is Beautiful
Many travelers enjoy taking their beloved pets along whenever they go on vacation. That being said, bringing your canine companion along will entail a lot more preparation than simply going on a trip by yourself. Whether you'll be traveling by land or air, make sure to pack these essential pet clothes and accessories with you.
A Collar and Leash
Having a collar and leash is essential when traveling with your dog. Primarily, these items allow you to direct your pup to wherever you want them to go. You can also use a collar and leash to secure your pup and keep them from running off. In fact, many states, cities, and even countries require all pets to be leashed when out in public so as to ensure everyone's safety.
Just to be safe, it's a good idea to bring along some extra custom dog collars and leashes. In case the ones your pup is using accidentally break, you'll have replacements that you can use right away.
An Identification Tag
Speaking of your dog's collar, this is also where you'll be attaching your pet's identification tag. Having this tag on your pup's collar at all times means you can be contacted in case your pup goes missing and is found by a kind stranger. That said, make sure to include all important information on your dog's tag, such as your contact details and any special needs your pup may have.
Collapsible Pet Bowls
Whether you're on a plane, on a boat, or in a car, your furry friend is bound to get hungry while heading to and from your destination. However, you likely wouldn't want to feed your pup by holding their food in your hands, as this can result in a huge mess. You also don't want your dog to drink from any puddles they may come across, as these are usually unhygienic and may cause your pet to fall ill.
To make it much easier and safer to give your dog food and water, make sure to bring foldable pet bowls that they can eat or drink from. These accessories are best for travel because they're very easy to clean and pack away once you're done using them. Since they can be collapsed into a flat disc, they won't take up a lot of space in your travel bag, too. Some foldable pet travel bowls even come with carabiners that can easily be hooked onto your backpack.
More travel inspiration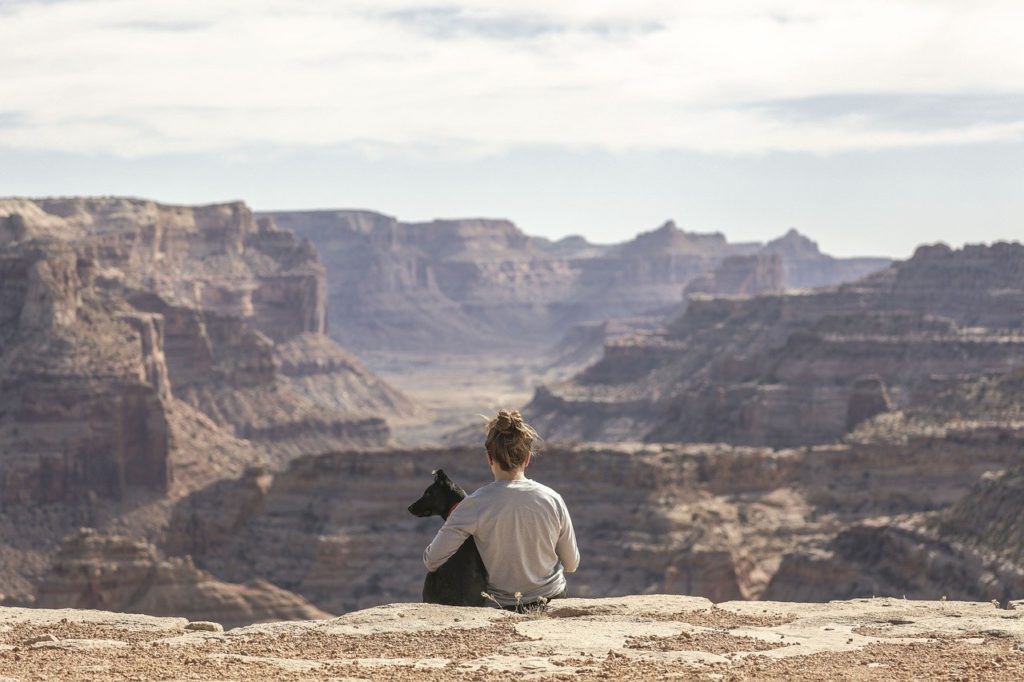 A Cozy Dog Blanket
When you're traveling, your precious pup will be exposed to lots of new and unfamiliar environments. Unfortunately, foreign sounds, smells, and sights can make your pet feel extremely anxious. To help them stay calm during your trip, bring a cozy and familiar dog blanket they can snuggle up in.
The blanket can also keep your pet comfortable whenever they need to rest. It can not only be used as a soft covering for a floor, chair, or pet bed, but it can also keep your pup warm in case you're going to a cold destination.
A Warm Dog Coat
If you'll be traveling during the colder months of the year, remember to bring a dog coat with you. Dog coats are specially made to cover a canine's torso, chest, and back. They usually don't cover a dog's hind legs to ensure that the pet has freedom of movement. Getting one of these coats for your dog is sure to provide them with additional warmth and protection from the elements.
In cases where bringing a dog blanket may not be as practical, dog coats are a great alternative. Unlike dog blankets, these products are sure to stay on, even if you have a rather rambunctious pup.
Dog Toys
Whether you're going on a quick trip or a long vacation, things can get really boring for your precious pup very quickly. They might start barking or moving around , which may disturb you or other passengers (if you're in transit) or other guests or visitors (if you're already at your destination).
To keep your dog's boredom at bay, bring along some interesting dog chew toys or plushies for the trip. Aside from keeping them preoccupied, these toys can help them burn off excess energy and reduce their anxiety. If your place of accommodation doesn't have any outdoor spaces your pup can safely play in, then your dog can use these toys to keep themselves entertained while staying in your room.
Going on a trip with your precious pup is a great way to create new memories. But before you travel, you need to make sure you have everything your dog will need. Truly, the right apparel and accessories can do a lot to keep your fur baby safe and comfortable. Remember to put these must-have items in your furry friend's travel bag before you leave home. With these in tow, you and your pup are sure to have an enjoyable and meaningful time together.