21 Incredible Alberta Waterfalls to Visit
Humans are drawn to waterfalls for their beauty and power – and perhaps even all the negative ions floating around. Nothing beats the mist of a waterfall on your face on a hot summer day or the quiet beauty of a waterfall frozen in time in winter. Waterfalls are great destinations as day trips, whether by car or on foot. Some of the Alberta waterfalls described are going to take a little work to get there, while others, like Cameron Falls can be experienced as a drive by. 
I've listed and described 21 Alberta waterfalls below that I think are worth a visit. In fact, you could make a summer of it, road tripping and camping, checking off all these waterfalls.
But a few words of advice before you go. The area around waterfalls is usually wet and slick so keep to the paths and pay attention to signs suggesting caution or danger. Some like the pool at the base of Crescent Falls – that may look innocuous, have claimed lives. Err on the side of caution around all waterfalls. And if you're after Instagram fame, use some common sense. Getting the shot is not worth an accident or death.
If you're driving to any of the waterfalls in Kananaskis Country, you will need a Kananaskis Conservation Pass. And the same goes for a national parks pass in any of the parks noted below.
Athabasca Falls, Jasper National Park
One of the top things to do in Jasper, no matter what the season, is to visit Athabasca Falls. They are just a short detour off the Icefields Parkway. The falls are some of the most powerful in the Canadian Rockies (so exercise caution), but they are by no means the largest falls, even though they are 23 metres high by 18 metres wide. Along the trail, there are lots of viewpoints with breathtaking views into the gorgeous carved canyon. If you're taking photos be sure to take care with your camera because of all the spray.
Athabasca Falls are usually busy. Go early or late in the day to avoid the crowds. There is a paved pathway across the bridge that is both wheelchair and stroller friendly. It provides viewpoints from the south side of the falls. To get to the bottom of the falls, you do have to negotiate steps and an uneven trail.  
Bighorn Falls near Sundre
If you head to Ya Ha Tinda Ranch near Sundre, you can visit beautiful Bighorn Falls. There is a parking lot near the falls – but will have to hike an easy trail to see them. You can do a 2.6-kilometre loop – going in on the lower trail and hiking out of the canyon on an upper trail, or an out and back hike on either the upper or lower trail – your choice. On hot summer days, many people walk right to the base of the falls and get their feet wet in the pool.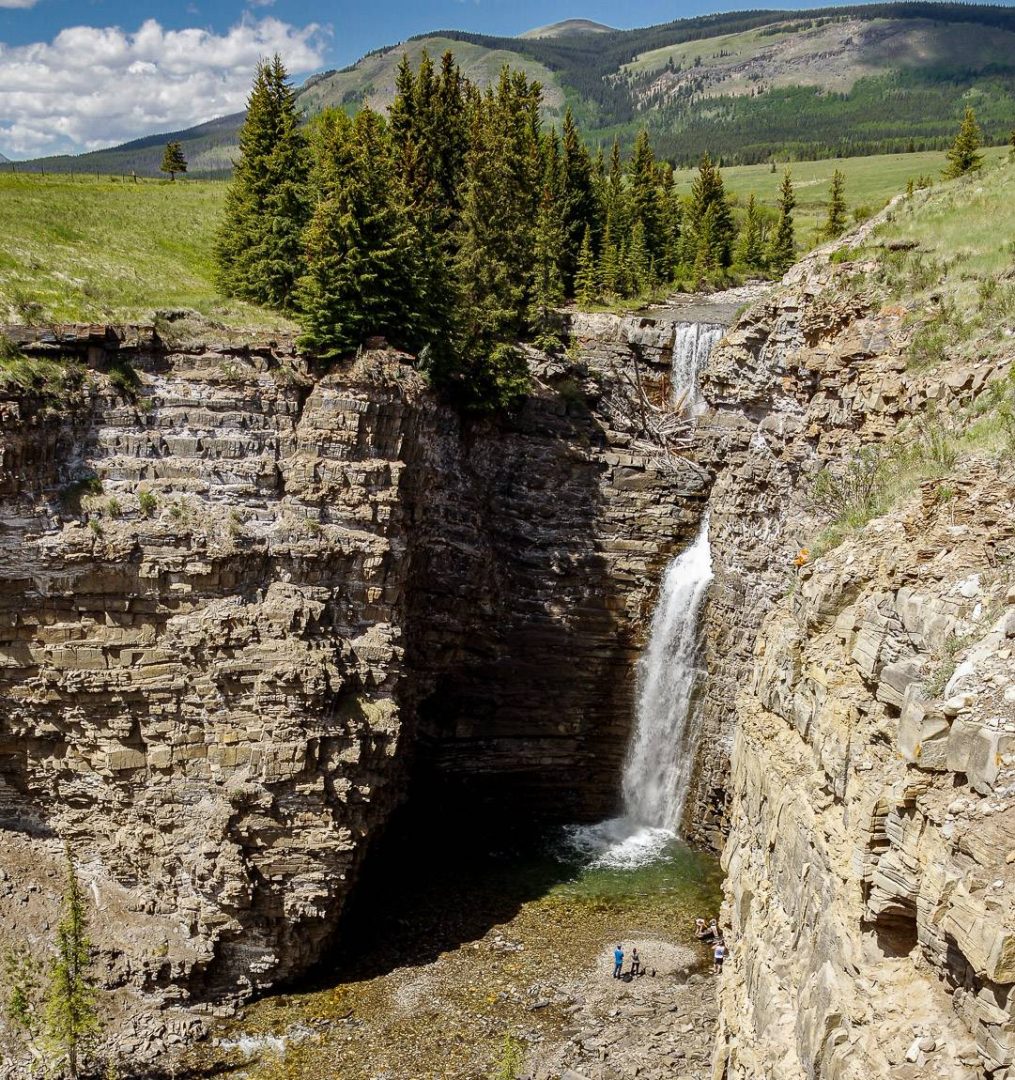 Blakiston Falls, Waterton Lakes National Park
It's an easy 2-kilometre return hike from the Red Rock Canyon parking area in Waterton Lakes National Park to visit Blakiston Falls. I've actually only hiked here at night to go star gazing as the skies are inky black, so while I could hear the falls, I never got a great view. The falls are 11 metres high.
There are a couple of excellent viewpoints at the falls – and they are well worth the effort to see.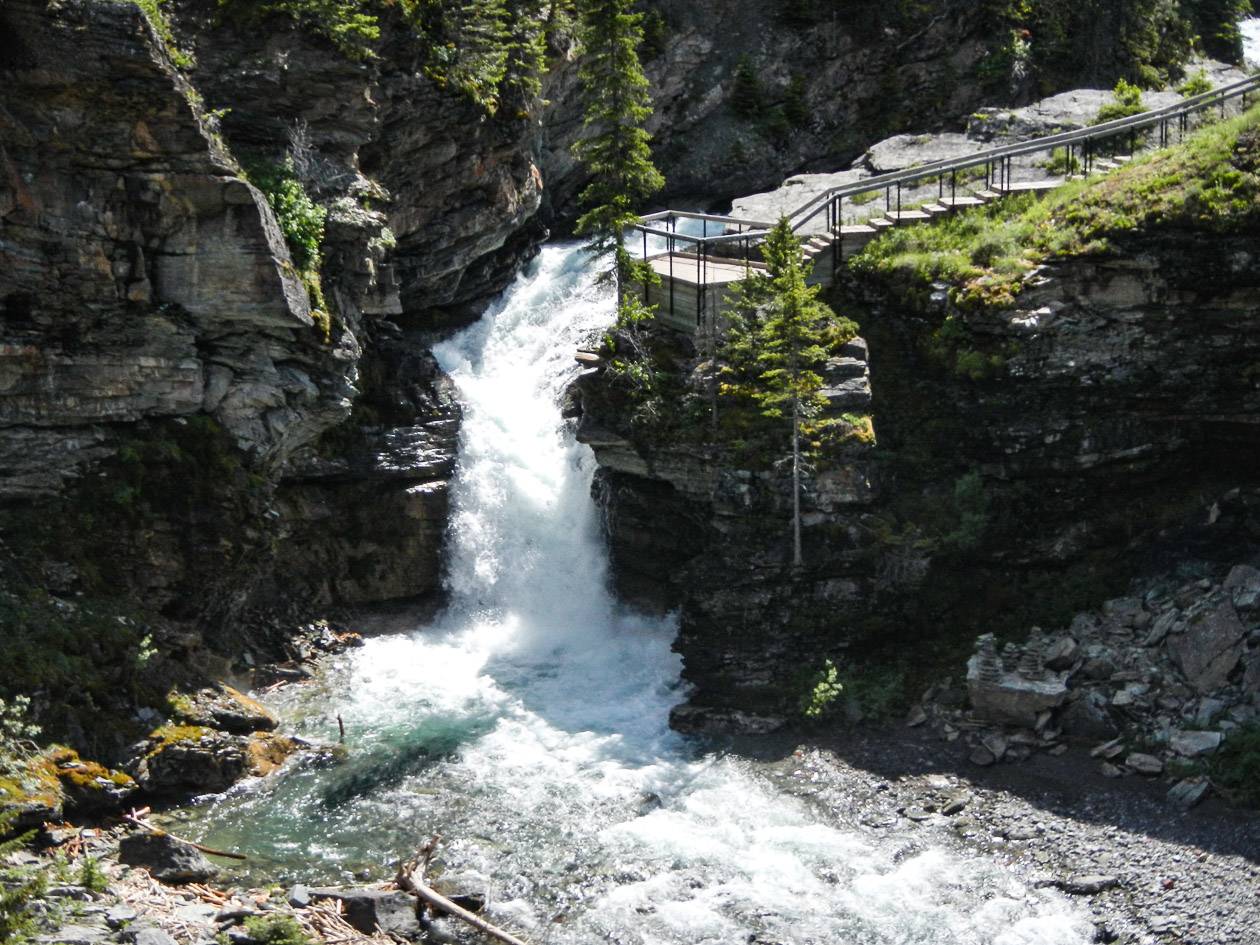 Bow Falls, Banff 
Bow Falls is in the town of Banff, a short 1.7 kilometre walk away from the downtown. They are a perennial favourite to visit – as they are large, spanning the entire Bow River. The drop is just 9.1 metres or 30 feet but the volume is large, so they are quite a sight. A visit to Bow Falls is perfect for anyone who has a little time on their hands and wants to see a slightly wilder side of the Banff townsite.
There's a good-sized parking area at the base of Bow Falls. From there you can walk a trail with viewpoints beside the falls. Allow an hour or two to enjoy the full experience. It's a good place to enjoy a picnic too.
Bow Glacier Falls, Banff National Park
The largest waterfall accessed from the Icefields Parkway is Bow Glacier Falls, falling 120 metres or 410 feet. The falls start their life as meltwater from the Wapta Icefield, so they are in fact the headwaters of the Bow River that we enjoy in Calgary.
It's a pleasant half day hike to get to Bow Glacier Falls starting from the parking lot at Num-Ti-Jah Lodge in Banff National Park. Take the lakeshore trail beside beautiful Bow Lake. At about the 3.4-kilometre mark you'll reach a narrow canyon. Make the short but steep climb along its rim but be careful if it is wet. The trail continues to the crest of a terminal moraine and on to the base of the falls. These Alberta waterfalls are at their best in summer. 
The return hike to Bow Glacier Falls is 9.4 kilometres with a 95-metre elevation gain.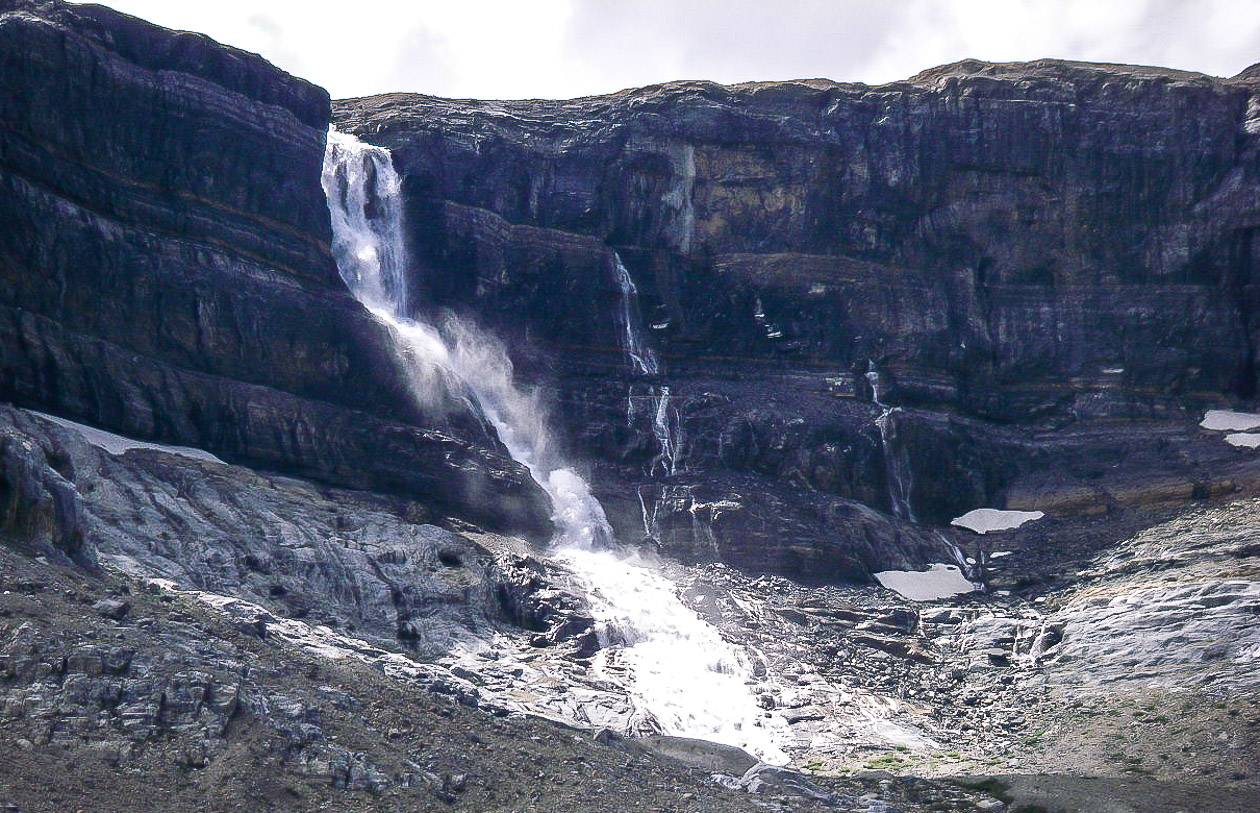 Cameron Falls, Waterton Lakes National Park
One of the easiest Alberta waterfalls to see is 23-metre high Cameron Falls in Waterton Lakes National Park. There's a parking lot directly across from them, and they are easy to access on foot from the Waterton townsite. The main falls are wheelchair and stroller accessible. There is a steep trail beside the falls where you can get a view from above. On a warm, windy day enjoy the cooling spray.
Water in Cameron Falls is usually very clear as seen in the photo below. But once after a very heavy rain, it turned pink probability because argillite, a sedimentary rock containing oxidized iron, got stirred up in enough quantity to cause the short-term change in colour.
Crescent Falls in David Thompson Country
The water from Crescent Falls, a 27-metre high two-tiered waterfall flows into the deepest gorge in Alberta on the Bighorn River. You'll find the parking area for the falls about 25 km southwest of Nordegg via Highway 11 and about 5 km on a washboard road. In winter expect mud and ice on the road. There is excellent signage pointing to the turnoff along the David Thompson Highway.
From the parking area, descend on a trail to a couple of viewpoints over Crescent Falls. The best view of the falls is from below – accessed via a trail that gets way too close to the falls – so take a zoom lens with you and stay safe. People have lost their lives around the falls, as recently as the summer of 2020 when a trio of family members drowned. In summer there's quite a nice campground nearby.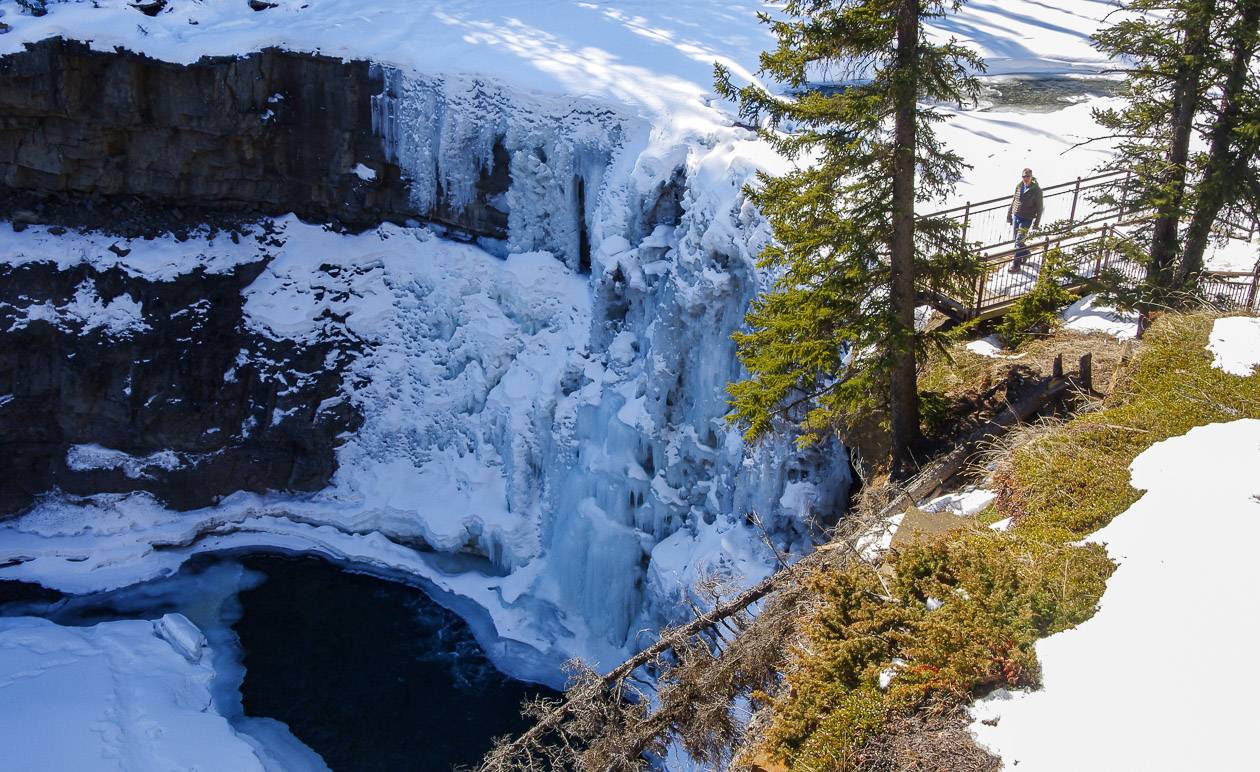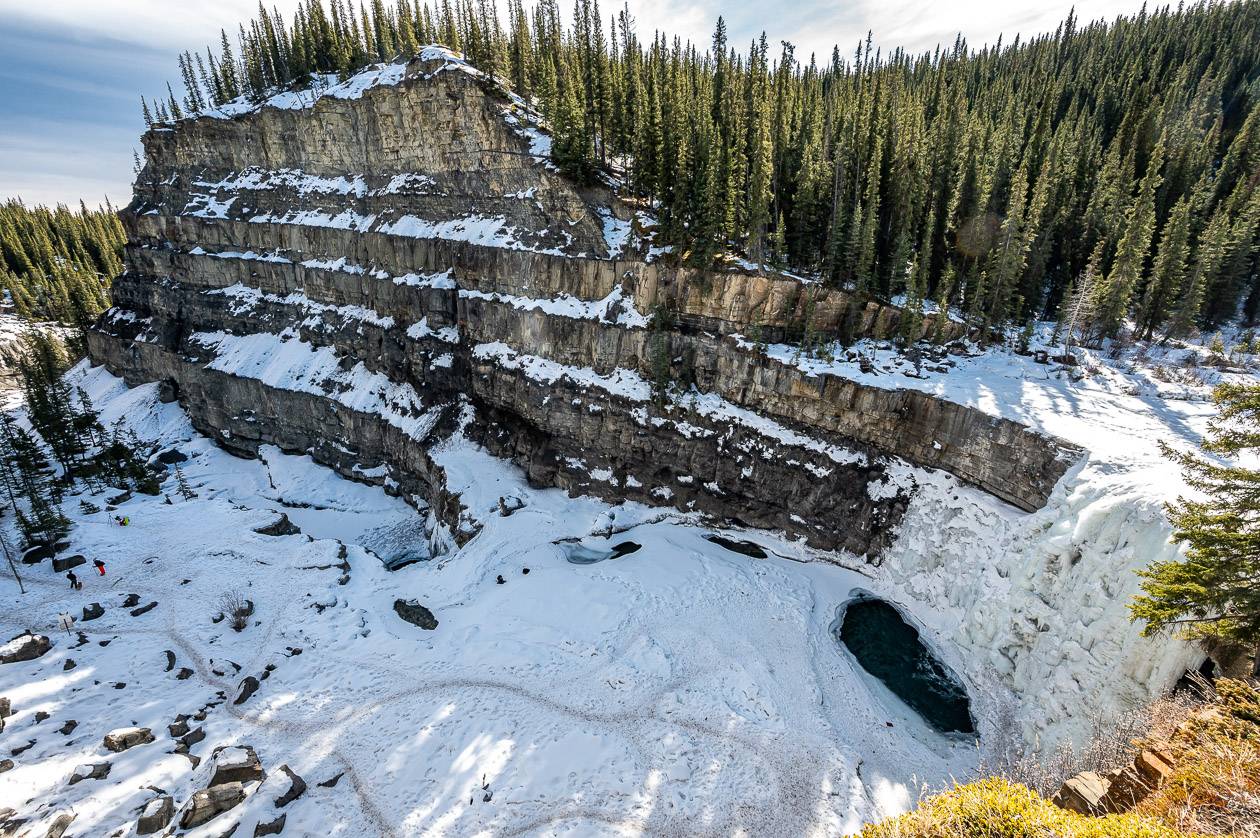 Edworthy Falls – one of the lesser-known Alberta waterfalls
Edworthy Falls is not a mainstream destination – but they are well worth the hike, even though the hike can only be done between June 15th and November 30th when Highway 40 near Highwood Pass in Kananaskis Country is open. Park at the Elbow Lake Day-Use Area.
It's a 9.7 km return hike (with just 175 metres of elevation gain) and an easy one at that. From the parking lot, it takes 30 to 40 minutes to reach Elbow Lake. From there, take the trail on the left or west side of Elbow Lake. Cross over an outlet stream, approximately 600 metres past the Elbow Lake Campground. Head left up an old road (Big Elbow Trail) for a further 2.4 km. The landscape in this section is incredibly beautiful. There is no signage marking Edworthy Falls but there is flagging in the bushes and a small cairn on your left, just after you have crossed a meadow. It is a popular outing so you'll likely meet people who can direct you.
The waterfalls plunge 20 metres into a turquoise-coloured pool and the setting with a mountain backdrop is spectacular. I would warn you that it's a steep descent to the pool so exercise a high degree of caution – and come November icers are a necessity.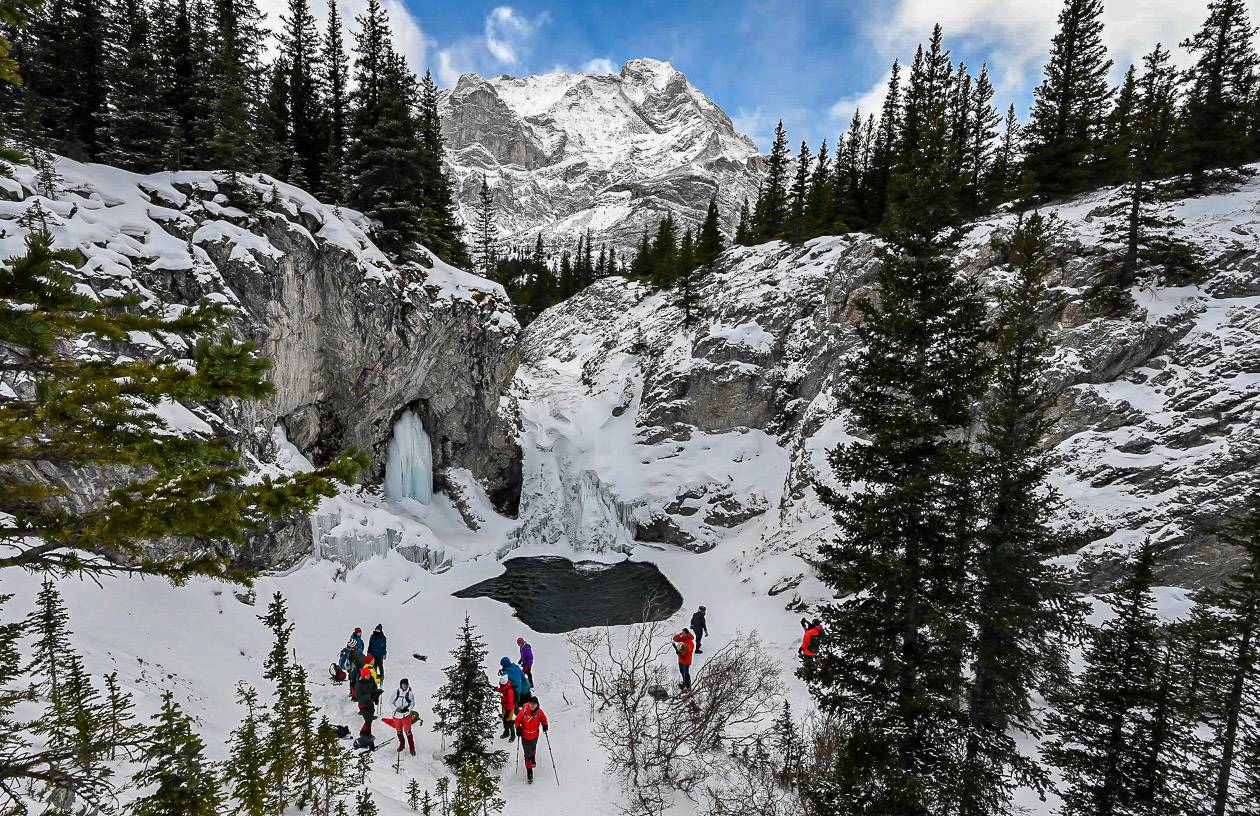 Grotto Canyon Falls near Canmore
I have only visited the Grotto Canyon Falls in winter via the fabulous and fun Grotto Canyon Ice Walk. The falls aren't very tall as you can see and at certain times of the year, they are more trickle than waterfall. I'd recommend visiting in winter so you can enjoy the ice walk as well.
Johnston Canyon Falls, Banff National Park
Tops in the popular things to do in Banff category, is a visit to the Johnston Canyon Falls. Enjoy a breathtaking experience every day of the year. The hiking trail to visit the falls is half the fun as part of it is a cantilevered catwalk. In winter it can be very slippery – which depending on your view, will increase the level of fun. There are lots of viewpoints on route to the falls which are almost as enjoyable as the falls themselves.
In total there are seven sets of waterfalls, but the most beautiful ones are the Lower and Upper Falls. It's a short and easy 1.2 km one way walk to the Lower Falls. It requires more effort to reach the Upper Falls as they are a further 1.2 km away and there is some elevation gain. In winter enjoy the sight of ice climbers on the Upper Falls.
Johnston Canyon Falls are accessed from the Bow Valley Parkway. Be warned that parking fills quickly so try to visit early or late in the day. Alternatively, you can rent a bicycle in Banff and cycle 25 km to the falls.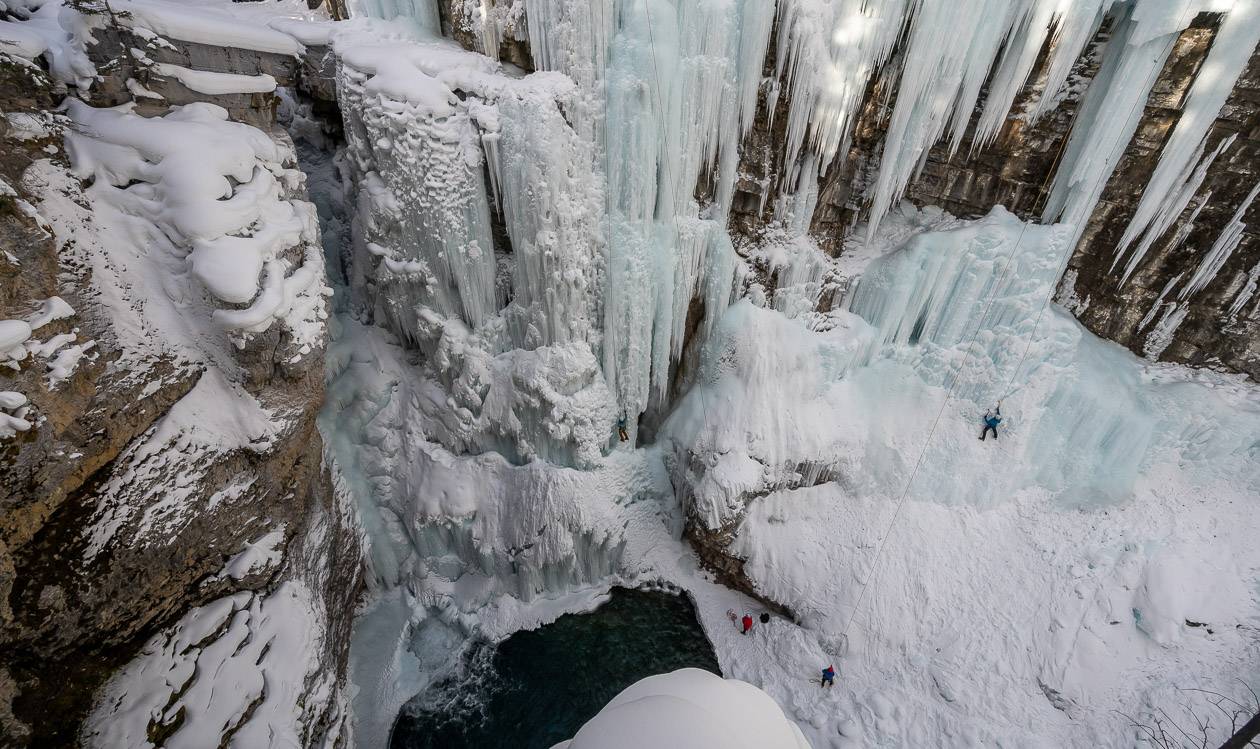 Lower Bertha Falls, Waterton Lakes National Park
One of the Alberta waterfalls I really love is Lower Bertha Falls in Waterton Lakes National Park. (You'll pass Cameron Falls to get to the trailhead.)  It's not a big one, rather a graceful cascading one that is accessed via a 5.2-kilometre round-trip hike. The elevation gain is an easy 191 metres. The trail takes you through forest that was burnt during the 2017 Kenow fire. The upside of the fire is some great views of Upper Waterton Lake and wildflowers along with a good chance of seeing wildlife. 
The cascading waterfalls are truly beautiful and a nice place to hang out and enjoy a picnic in summer.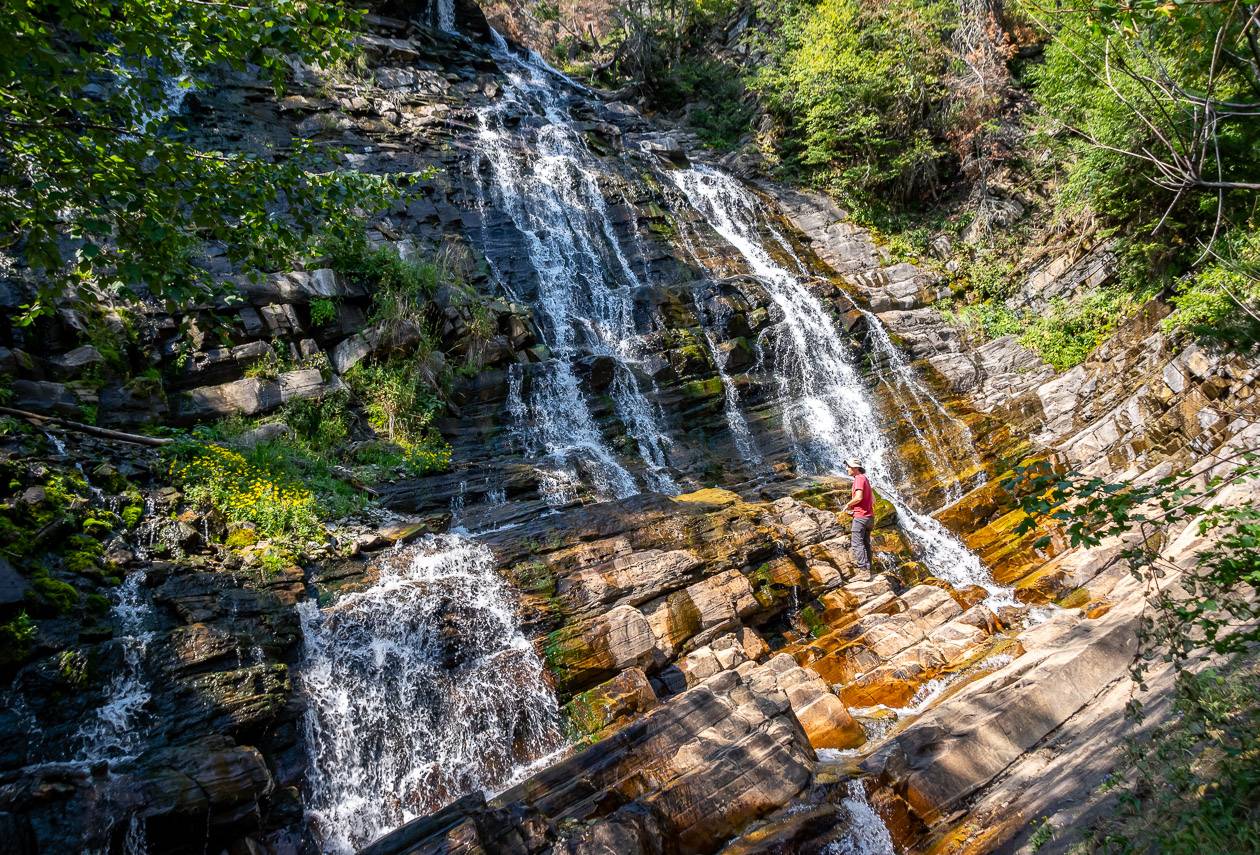 Lundbreck Falls, southern Alberta
Lunbreck Falls on the Crowsnest River are sometimes called Little Niagara because they split into two falls. The falls are easy to access from Highway 3 in the Crowsnest Pass area. It's one of the Alberta waterfalls with a popular campsite that is just steps away.
From the top of Lundbreck Falls to the pools it's a 12-metre plunge – which has been tackled in a kayak before though it's not recommended. Visit these falls at any time of the year. I find winter particularly enchanting around the falls. 
Mistaya Canyon Falls, Banff National Park
The Mistaya Canyon Falls are exciting to look at – and a little scary at the same time. It's a 1.0 km one way hike on an old road to get to Mistaya Canyon so count on a return trip to take upwards of 45 minutes. The falls are one of the most scenic spots in the Rockies. Photographers will be in their element.
When you get to the bridge look down and gape at the power of the Mistaya River. Marvel at the smooth limestone, eroded over time. Many visitors go down to the rocks – us included – but the area around the canyon isn't fenced so be SUPER careful.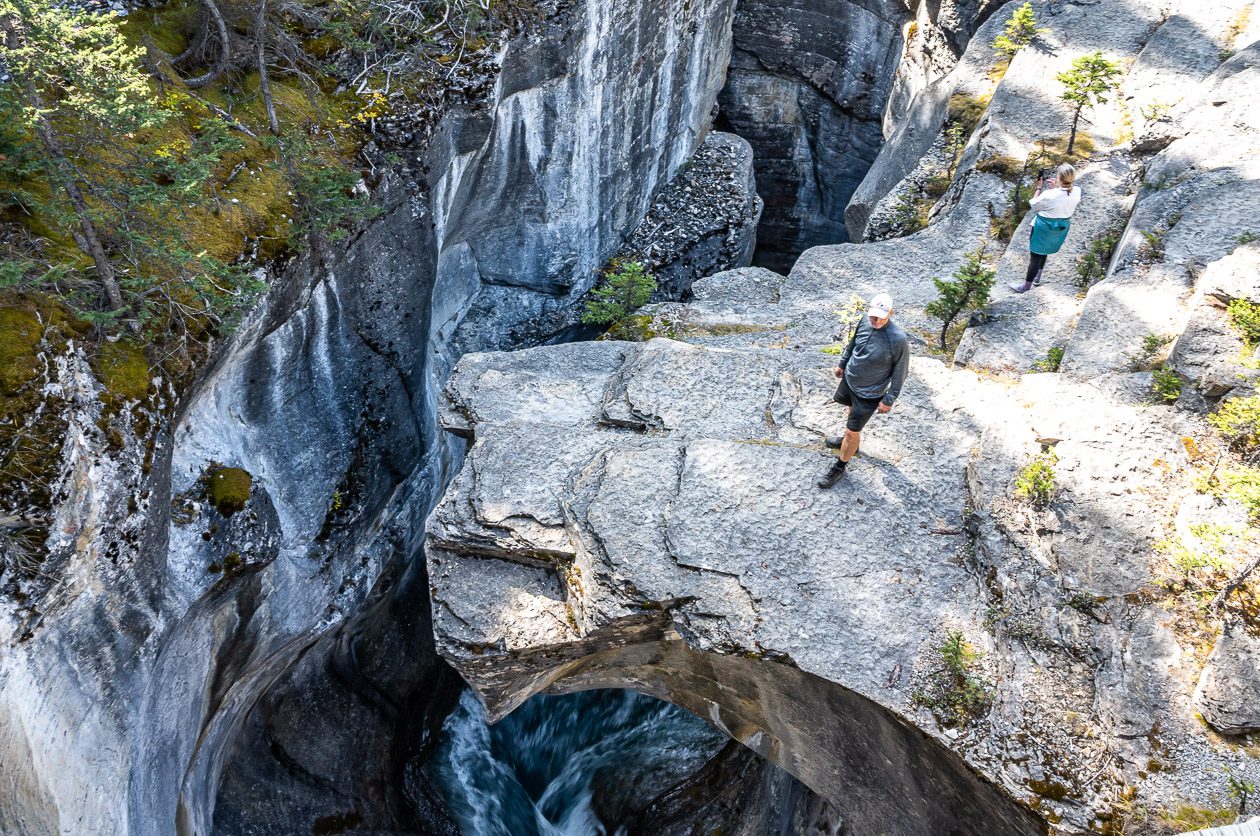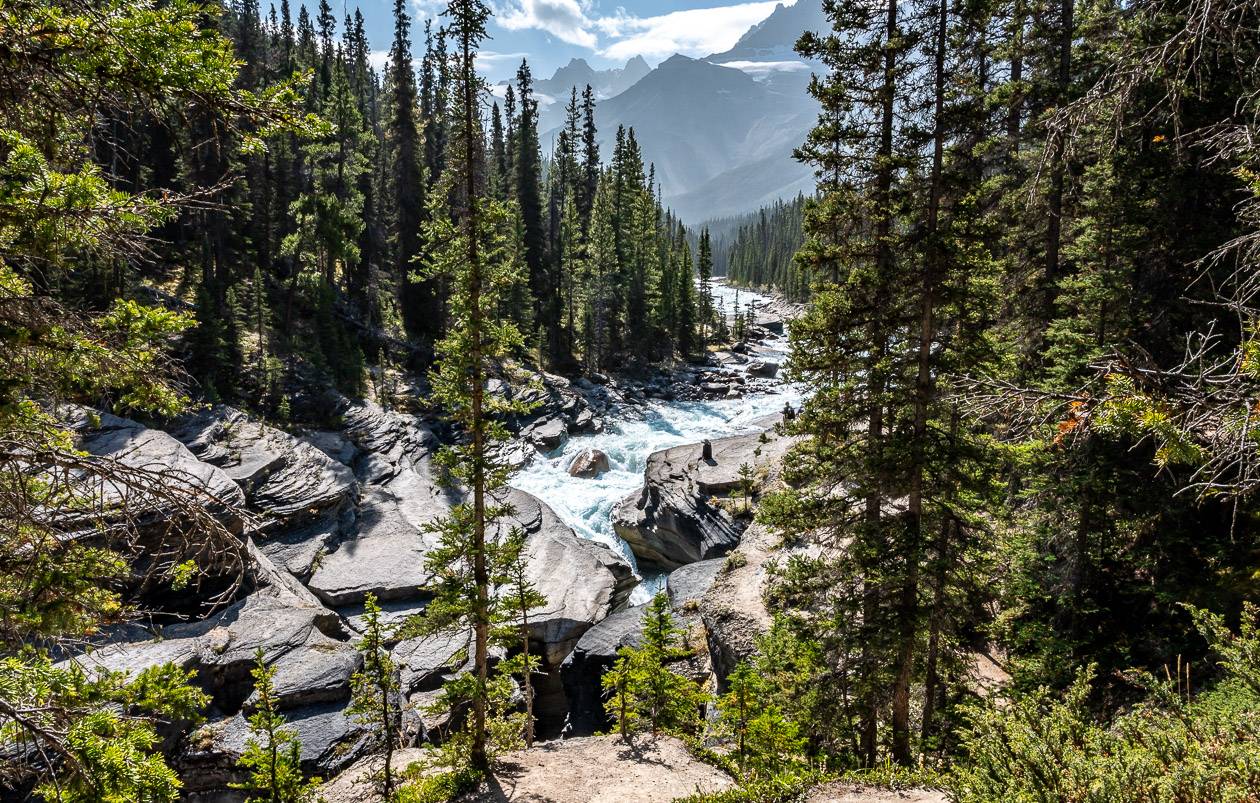 Panther Falls and Bridal Veil Falls, Banff National Park
Bridal Veil Falls are located at the big bend of the Icefields Parkway, 36 km north of Saskatchewan River Crossing and 2.2 km south of the turnoff to Parker Ridge. The water originates on the Huntington Glacier and eventually ends up in the North Saskatchewan River.
Panther Falls can be visited in conjunction with Bridal Veil Falls via a 1-kilometre hike on a sometimes- slippery trail, so exercise caution. The 66-metre-high Panther Falls are far more stunning than Bridal Veil Falls though most people miss visiting them. You can visit these falls year-round. Panther Falls is a popular winter ice-climbing destination.
Ram Falls
I have yet to visit Ram Falls but it's high on the list next time I'm anywhere near Rocky Mountain House. The falls are easy to access from the nearby Ram Falls campground. A viewing platform offers spectacular views of the Ram River as it drops 20 metres over hard sandstone It is one of the most impressive Alberta waterfalls – and it doesn't get the crowds that others see.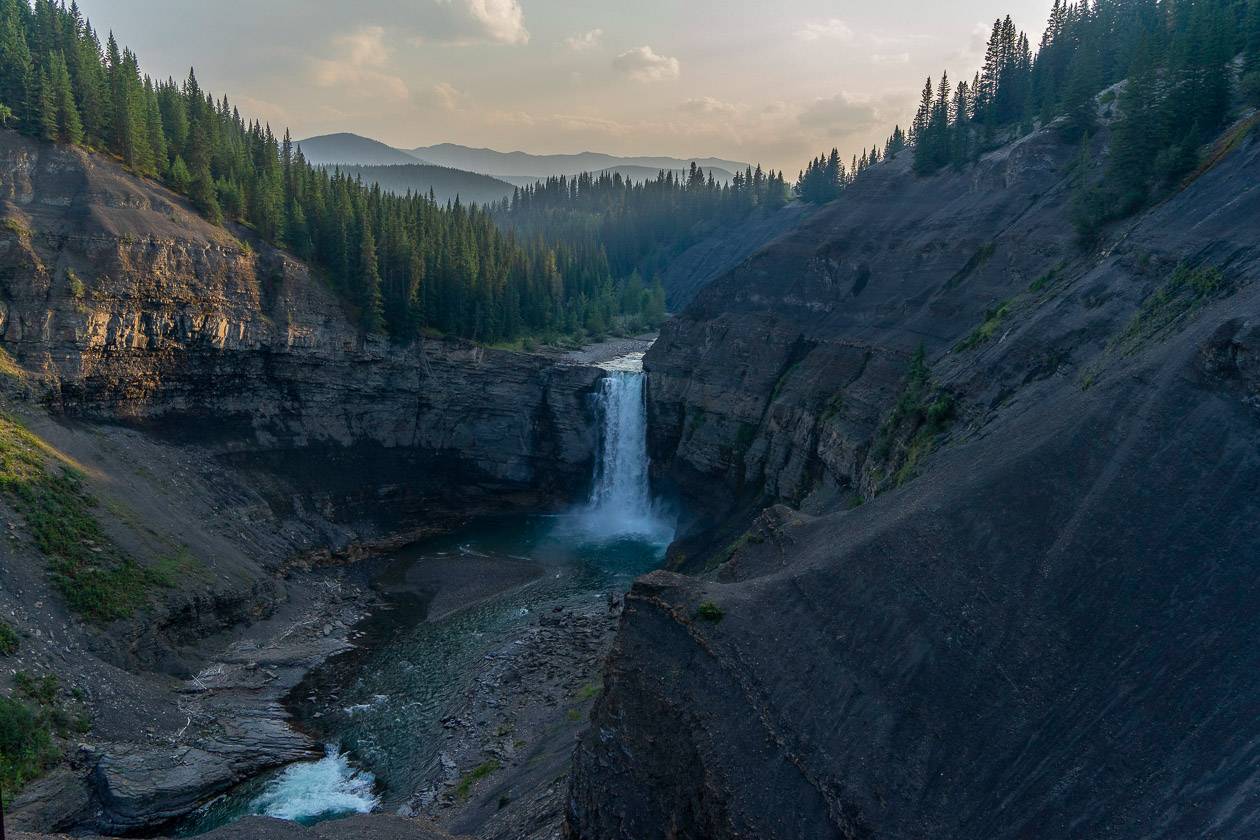 Ribbon Falls – a long hike to one of the impressive Alberta waterfalls
The Ribbon Falls hike in Kananaskis Country off Highway 40 is almost 21 kilometres long, but with only 447 metres of elevation gain, I'd rate it as moderate. It was a far prettier hike than expected as it follows a spectacular valley hemmed in on either side by Mount Kidd to the southeast and Mount Bogart to the northwest. When we finally reached Ribbon Falls, a short distance past the Ribbon Falls Campground, my jaw dropped at their size. 
The water for Ribbon Falls originates at Ribbon Lake. The plunge is an impressive 25 metres over a rock face. If you climb a little higher, you can see the water flowing over several headwalls on route to the rock face. The photo was taken in late May at the start of the spring melt.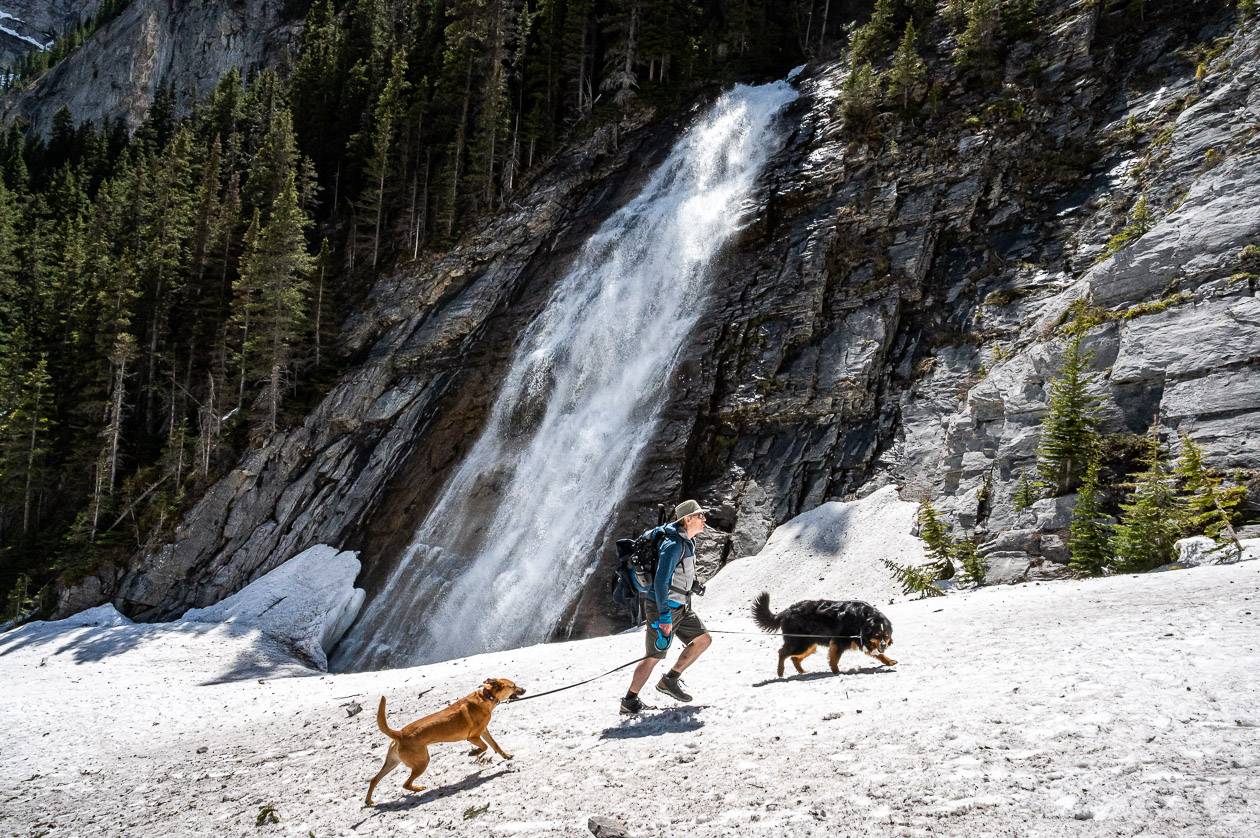 Sheep River Falls, Kananaskis Country
Sheep River Falls in Sheep River Provincial Park is a great destination – via a scenic bike ride or via a drive for some family time. It's 35 kilometres up the road from Turner Valley. Although the falls aren't large, they are scenic and there are a lot of different viewpoints to admire them from. This is a great place to enjoy a picnic lunch or even dinner. 
The road to Sheep River Falls is closed every year from December 1st until May 14th but bikes can visit and Sheep River Falls is especially lovely when you get them to yourself.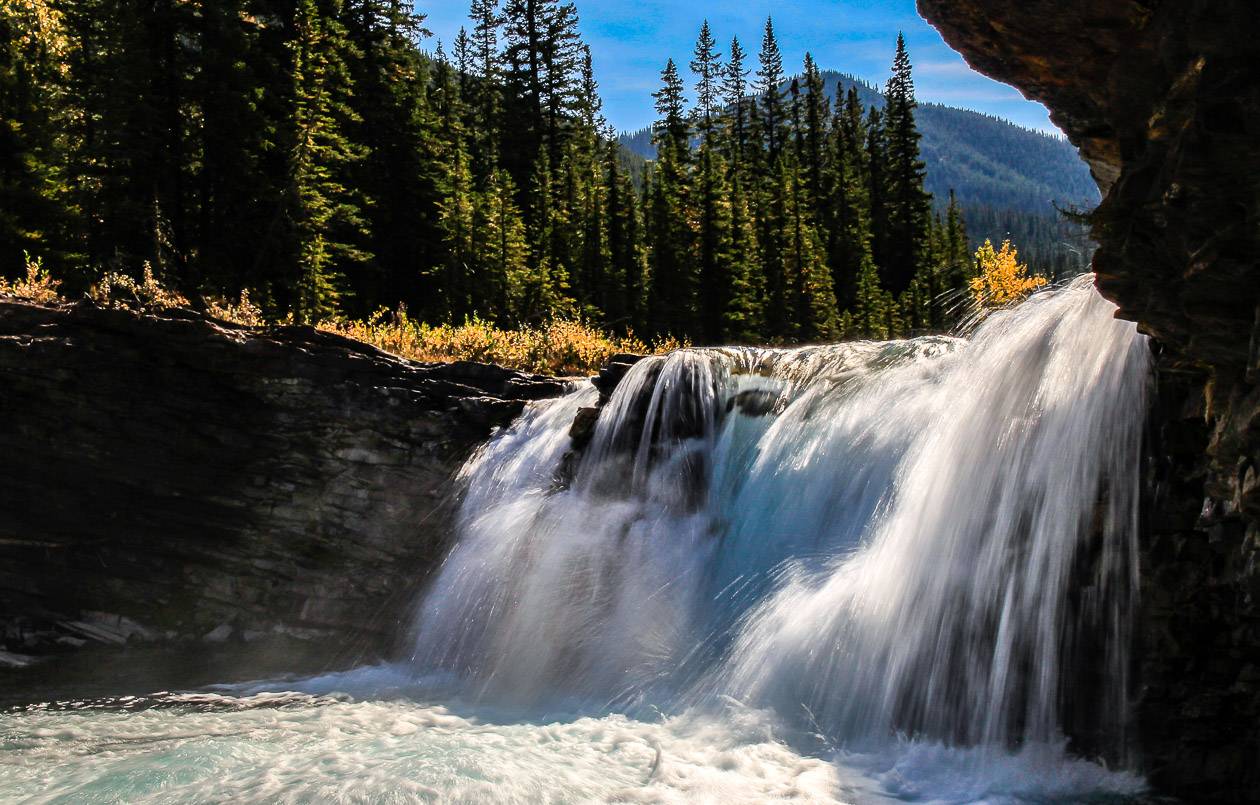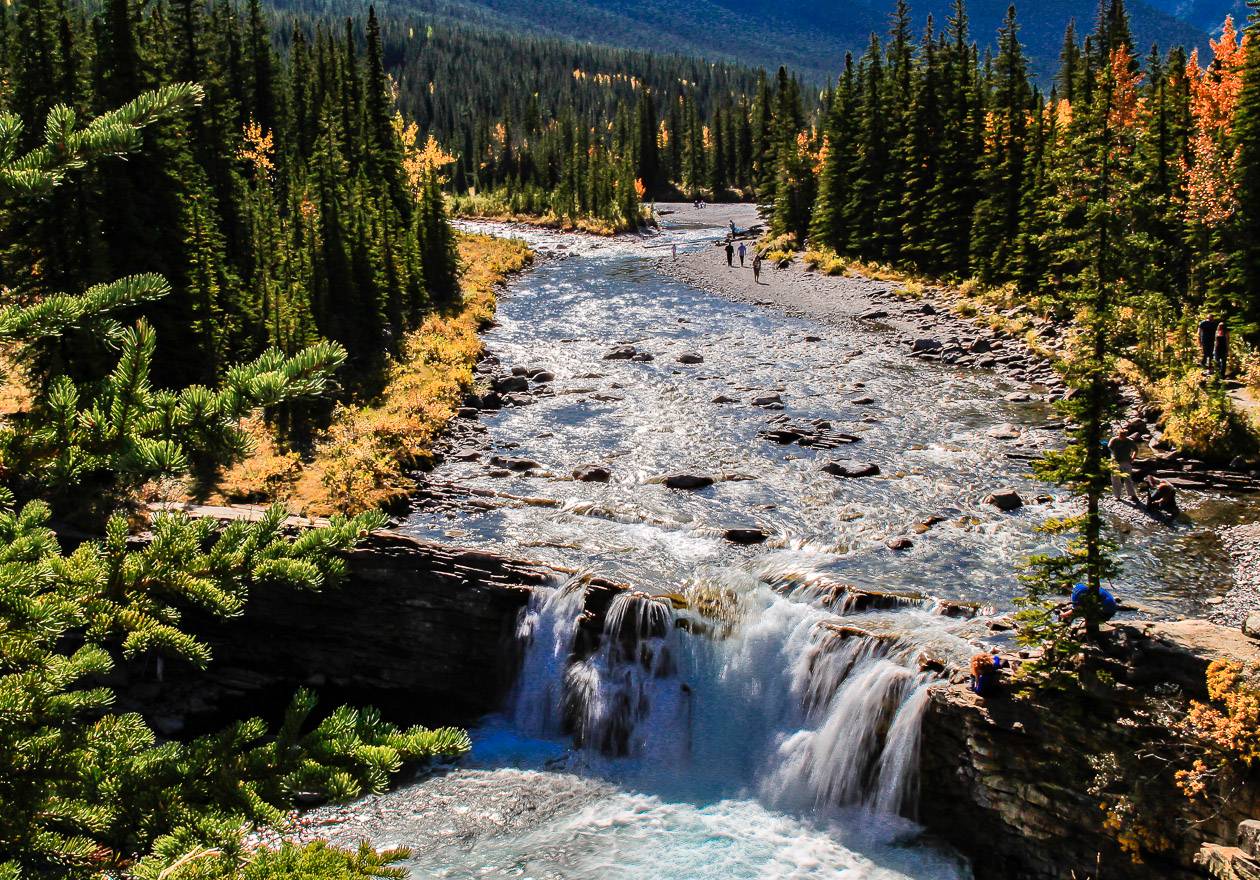 Siffleur Falls, David Thompson Country
One of the most popular hikes in David Thompson Country takes you to Siffleur Falls, a collection of three separate waterfalls. Getting to the falls requires crossing a suspension bridge over the North Saskatchewan River. It's 4.0 km one way to the first set of falls where you'll find a viewpoint over a very large waterfall. Continue for 2.5 km to reach the second set of falls and a further 1.5 kilometres to reach the final waterfall. 
We did the hike in March – and icers would come in handy as there are lots of slippery sections. It's a great hike and the first waterfall alone is worth the effort. The trailhead for the hike to the waterfall is 27.5 km east of Saskatchewan River Crossing.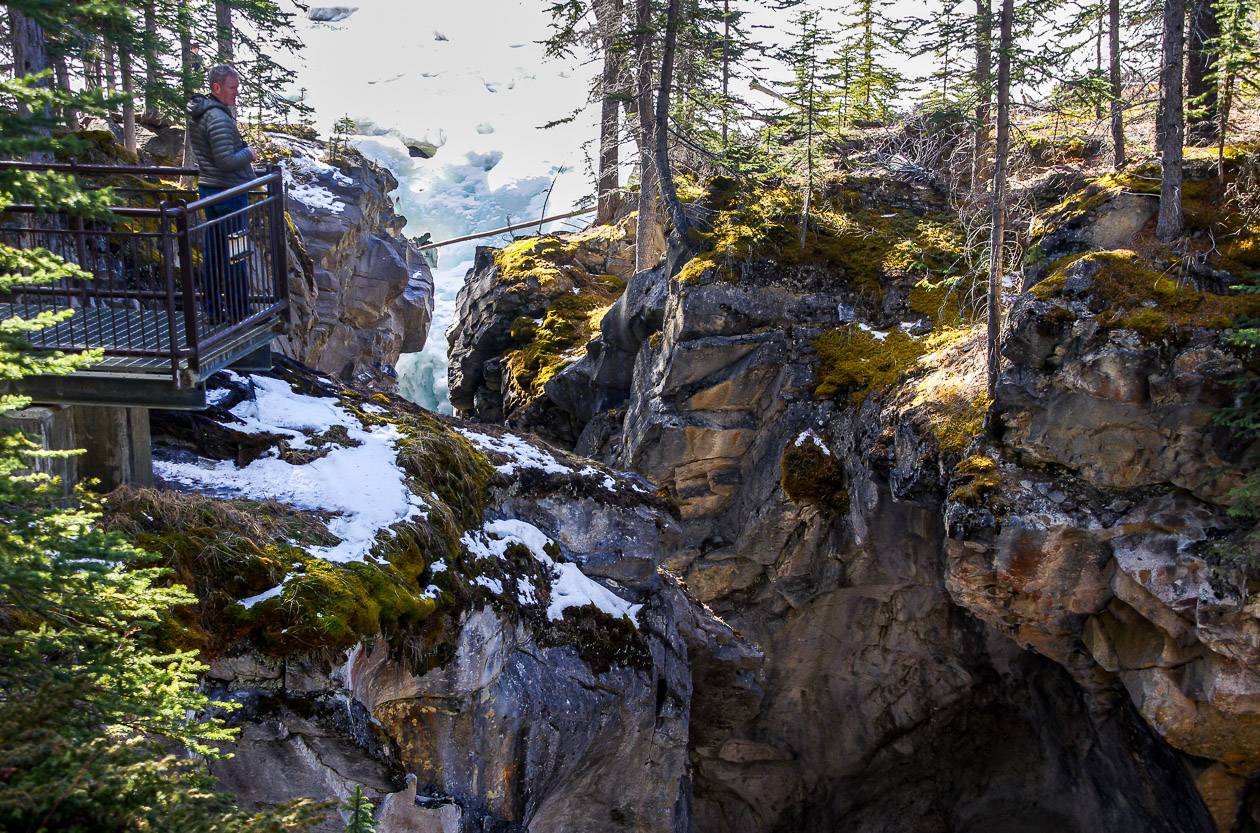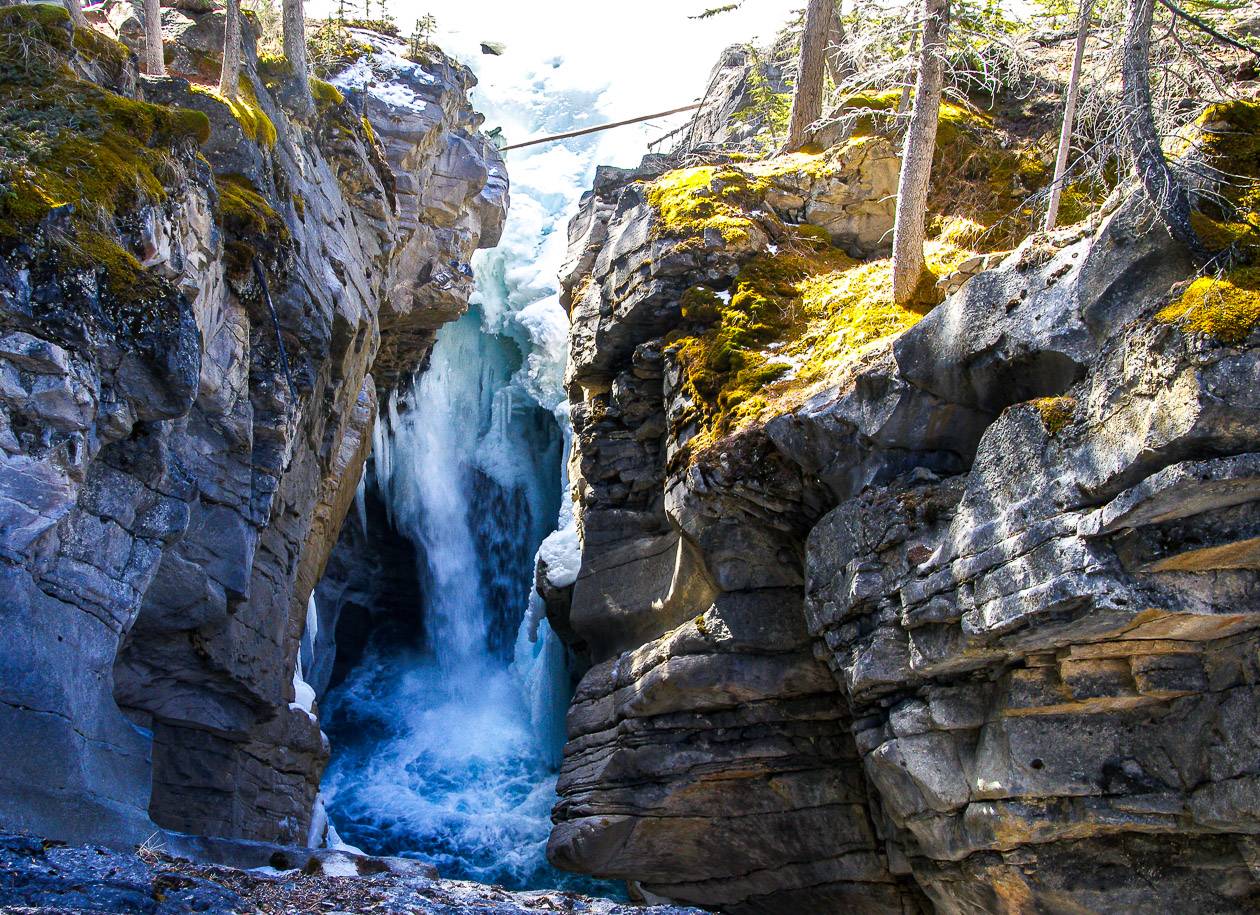 Sunwapta Falls, Jasper National Park
You'll find Sunwapta Falls 179 km north of Lake Louise and 56 kilometres southeast of Jasper. The Athabasca Glacier feeds Sunwapta Falls which consist of an upper and lower set of waterfalls. The upper falls are very easy to access from the parking lot and tend to be very busy. Their drop-off is 18 metres – which is especially impressive when you're standing on the bridge looking over the narrow cleft the water is forced through.
Foot traffic falls off to visit Lower Sunwapta Falls but it's well worth the 4-kilometre return hike to see them. Take an easy trail through lodgepole pine forest to reach them. The peak season to visit the falls is in late spring and early summer during runoff from snow melt.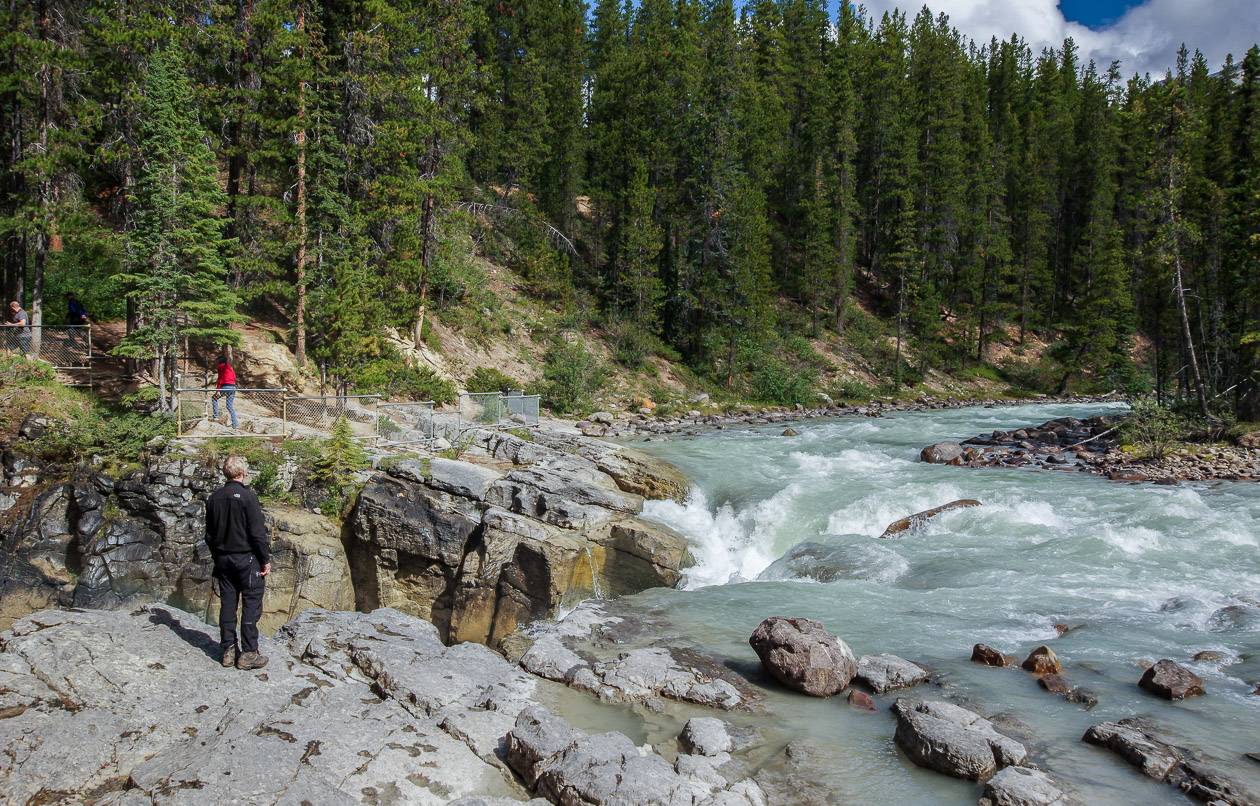 Tangle Creek Falls, Jasper National Park
If you're driving the Icefields Parkway, make a stop at 35-metre-high Tangle Falls – one of the most photographed waterfalls in Jasper National Park. Tangle Creek Falls is located 7 km north of the Columbia Icefield Discovery Centre on the east side of the highway. Parking is on the opposite side of the road. The falls are literally right beside the highway, but you have to be very careful crossing it. Allow 10 – 20 minutes to visit or more if you choose to hike downstream to Lower Tangle Creek Falls.
Troll Falls, one of the popular Alberta waterfalls in Kananaskis Country
The hike to Troll Falls is a perennial favourite and one of the most popular Alberta waterfalls to visit – largely because its easy and family-friendly and delivers not one but two pretty waterfalls. The falls can be enjoyed year-round though sometimes the trail to Upper Troll Falls gets closed in winter if the trail gets too icy.
It's 3.4 kilometres round trip to Troll Falls with only 60 metres of elevation gain via a well marked trail. If you choose to continue to Upper Troll Falls – and I really recommend that you do – allow a minimum of 30 – 40 minutes as there are loads of scenic stops along the way and it's a further 0.9 km one way. You can also go behind the upper waterfall – which is always a cool experience. The parking lot is off the road to the Nakiska Ski Resort. 
Location map of the Alberta waterfalls
Click on the photo to bookmark to your Pinterest boards.